Interactive Book, Visuals, & Song Set: My Body (Head Shoulders Knees Toes)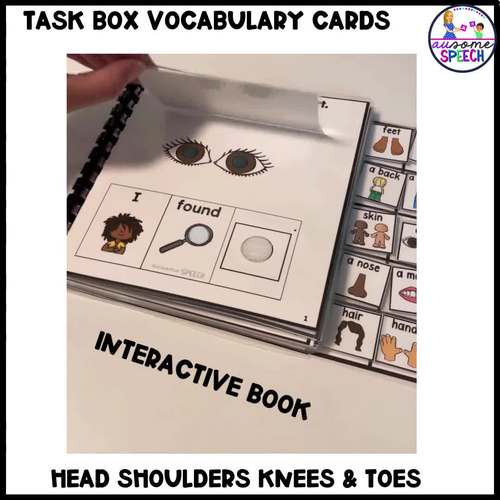 ;
Also included in
This is a Bundle of Nursery Rhymes. What's Included: 5 Little MonkeysRaining Pouring Head Shoulders Knees & Toes Wheels on the Bus Ants go Marching 5 Speckled FrogsGoing on a Bear HuntDaddy FingerHappy BirthdayOpen Shut ThemTen in the BedHappy and You Know ItEach One Has:Interactive Boom Cards

Price $39.90

Original Price $57.00

Save $17.10
Description
All About My Body
Common Core Standards Included for kindergarten language and ELA Reading.
What You Get:
1) Printable Interactive Book: Lift-a-Flap with removable, interactive pieces to increase enagement and attention.
2) Head Shoulders Knees and Toes visual and coloring page.
3) Task Box Body Parts Vocabulary Cards
4) New! Dot Art and Boom Cards™
Boom Card Deck: Two Parts. Nursery Rhyme Head, Shoulders, Knees, & Toes (No Audio) and Receptive Language Identification of Body Parts (Audio & Two Picture Choices Included)
Body Parts Included: body, head, hair, ears, eyes, nose, mouth, teeth, lips, chin, neck, shoulders, arms, arm, hands, fingernails, finger, thumb, feet, legs, knee, shin, feet, back, side, etc.
The book teaches simple body parts and includes interactive pieces and sentence strips for expanding utterances and working on simple sight words. Perfect for simple language, basic reading, and following directions for matching pictures. Kids will love moving the velcro pieces in the printable book.
Designed for preschool, kindergarten, speech therapy, special education, autism, home school, and more!
Related Products
This file contains links to access interactive task cards using Boom Learning ™.
To use Boom Cards, you must be connected to the internet. Boom Cards play on modern browsers (Firefox, Edge, Safari, and Chrome). The Boom Learning app is available on Android, iPad, iPhone, and Kindle Fire. For privacy and security purposes, an adult must have an account to assign and use the Boom Cards. You will be able to assign the Boom Cards you are purchasing as "Fast Pins" (this provides instant feedback for the games played). Fast play is a free way for students to use Boom Card decks. For additional assignment types, you'll need a premium account. If you are new to Boom Learning, you will be offered a free trial for the premium account. Read here for details.
If you have any questions, please email me at eheplerslp@gmail.com.
Join the Ausome Speech Club for freebies, tips and tricks, giveaways, therapy ideas, social script videos, and more!
**TpT**PINTEREST**BOOM LEARNING **INSTAGRAM **BLOG** FACEBOOK **
Terms of Use: © Ausome Speech, LLC. This is a single user license only. Please do not share, copy, email, save to a shared drive, or redistribute this file in any way. If you wish to share with a colleague, please purchase an additional license or direct them to my TPT store. You may not copy any part of this document (content, layout, format, idea, design) and reproduce it or create a similar product using my idea.
All rights reserved to Elizabeth Hepler of Ausome Speech, LLC. This original activity was imagined and created by Elizabeth Hepler, all rights reserved.
Report this resource to TPT
Standards
to see state-specific standards (only available in the US).
Follow words from left to right, top to bottom, and page by page.
Read common high-frequency words by sight (e.g., the, of, to, you, she, my, is, are, do, does).
Produce and expand complete sentences in shared language activities.