Interactive Book for Early Intervention and Apraxia of Speech l Early Words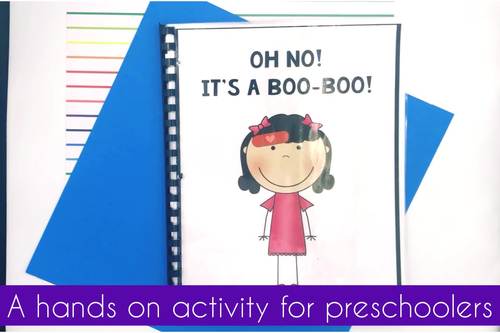 ;
What educators are saying
Students love this story and they love putting band aids on any and everything. It is also a great story for teaching family members.
My kids love this book! It has been helpful targeting skills for my student who has limited verbal output. He will imitate words in this book. Money well spent.
Also included in
These FIVE repetitive and interactive books for speech therapy are fun and engaging for even your littlest preschool and kindergarten learners.They are designed to offer ample opportunities to practice speech sounds, word shapes expressive language, and receptive language in a natural way. Each stor

Price $18.38

Original Price $22.97

Save $4.59
Description
Are you preschool and early intervention students having difficulty engaging in stories during speech therapy? This hands on and repetitive book is a great way to teach predicting and vocabulary and increasing expressive language. It's also a great way to practice articulation words and early word shape targets multiple times.
This product includes:
A repetitive story about people and pets who have 'boo-boos'. Each person/pet needs a a band-aid for their boo boo. The child is able to choose a band aid to stick on each boo-boo.
V: Oh
CV: No, Boo
VC : On, Off
Early words: Help
CVCV: Happy, Bye Bye
CVCV: Mommy, Daddy, Baby, Bunny, Puppy, Baby, Nana, Papa.
Functional Words: Brother (You could use your student's sibling's name for functionality), Sister (You could use your student's sibling's name for functionality)
9 colourful bandaids that the student can take on and off and 'fix' the boo boo.

This product is part of the following bundle:
Interactive and Repetitive Story Bundle
If you have questions, please contact me at annadeeslp@gmail.com. I am more than happy to answer any questions you may have.
–––––––––––––––––––––––––––––––––––––––––––––––––––––––––––
Let's Connect!
FOLLOW MY TPT STORE: Click "Follow Me" on my Store Page. I send alerts with sales and any new freebies that have been posted!
FOLLOW ME ON INSTAGRAM for product demos, play therapy ideas and all things speech related.
CHECK OUT Anna Dee SLP on FACEBOOK for articles and my favourite online resources.
SUBSCRIBE TO MY NEWSLETTER to be the first to get Subscriber Only Freebies, learn Play-Based Therapy tips and tricks, and stay informed about new products and promotions!
Report this resource to TPT