Interactive Sentence Flips for Language Expansion Bundle!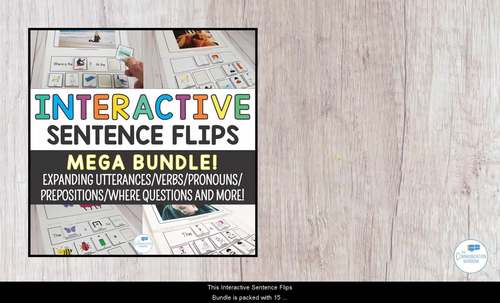 ;
Products in this Bundle (16)
showing 1-5 of 16 products
Description
Big money saving bundle of 16 Interactive Sentence Expansion Flip Books for speech therapy, special education, or early readers! Use fun, interactive picture symbols to develop receptive and expressive language. Every sentence flip contain multiple sentence stems to allow you to work on a variety of goals and scaffold language appropriately to your child's level. Save over 30% off buying the activities seperately!
Target a huge variety of language skills including:
expanding utterances
sentence building
word combinations
increasing MLU
prepositions
verb phrases
answering "where" questions
pronouns
emotions
and more!
Covering multiple themes and language skills, your kids will love moving the pictures around to build sentences, answer, and ask questions. Designed to be highly motivating, kids love to see the sentences they are building. These are awesome for mixed speech groups, children with autism, language delays, English language development and special education classrooms!
The bundle currently includes 16 Interactive Sentence Flip activities covering tons of fun themes!
Themes covered:
People in Action
Animals
Common Objects
School
Community Helpers
Places
Fall
Winter
Spring
Summer
Halloween/Dressing Up
Ocean Animals
Bugs
Christmas
I am currently working on adding Boom Card versions to some (not all) of the Interactive Sentence Flips. Sentence Flips with Boom Card versions currently included:
People in Action - Pronouns and Verbs
Winter Pronouns and Verbs
Spring Bugs - Prepositions
Some reviews of the Interactive Sentence Flips:
"Thank you for creating these interactive sentence flip books! I would love to see a huge bundle - I would gladly buy! So helpful!"
"This has helped my students so much"
"I really like the interactive sentences. It helps my students be a bit more creative and create longer sentences."
"So glad to find a usable product that will work on individual goals! It's even better that I don't have to make it myself."
Want more interactive activities? Check out my growing Interactive Adapted Books Bundle for Early Language Skills. 13 Interactive Book Packs and growing! Save over 25%!
Report this resource to TPT