Interactive Shabbat Vocabulary Guide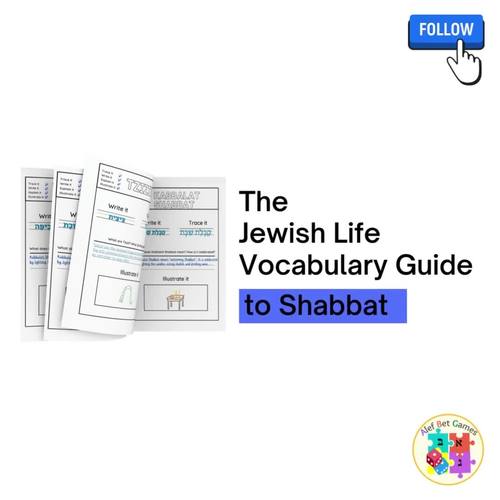 ;
Also included in
Teaching Tefillah isn't easy. We work hard to teach our students how to decode words in a language most don't understand. The activities in this bundle are designed to serve as an alternative to the often monotonous approach to Tefillah education. They can be used to introduce or review the prayers.

Price $33.90

Original Price $40.00

Save $6.10
Description
Uncover the Rich Meanings Behind Key Jewish Life Vocabulary on Shabbat.
Explore the significance of wearing a kippah, the role of a minyan in Jewish law, and the symbolic knotted fringes on the tallit.
Enhance student learning and retention with this engaging "Jewish Life Vocabulary Guide to Shabbat." Designed to cater to a variety of learning styles, students will write, explain, reflect and illustrate key vocabulary words, bringing them to life.
Contents
This interactive lesson plan includes Jewish-life vocabulary words essential to Shabbat services.
Kabbalat Shabbat, Kippah, Bracha, Kiddush, Tefillah, Siddur, Minyan, Tzitzit, and Havdallah.
Students will be challenged to:
Read the Hebrew word
Trace and write the Hebrew word
Explain its meaning
Illustrate its significance
Printable Activities
Reinforce learning with a word-match worksheet, Judaica-themed crossword puzzle, and Shabbat Word Search.
All answer keys are included.
Check out the fun fonts in the preview!
Subscribe at www.hebrewworksheets.com to sign up for free worksheets, the latest updates, and special offers.
Report this resource to TPT