Interactive Thanksgiving Music Games: Dress a Turkey Bundle of Rhythmic Concepts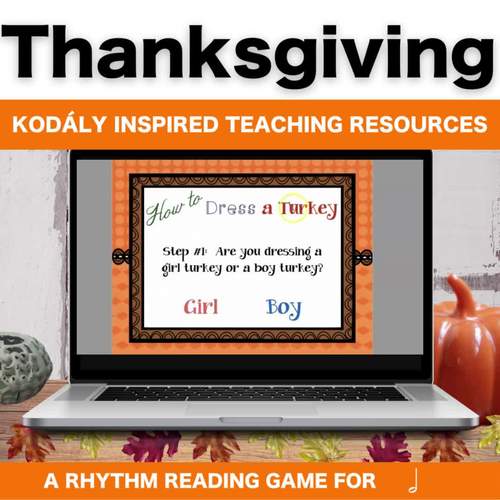 ;
What educators are saying
My students live for this!? Something as simple as choosing a tie or glasses keeps them so engaged. A GREAT thanksgiving activity.
Description
Some people dress their Thanksgiving Turkey with stuffing but this year your students will love dressing him in a vest and shorts or her in a dress or skirt!
These interactive PDFs are based on the "choose your path" books in that there are multiple ways for your students to dress their turkeys. In fact, there are 198 different combinations of ways to dress their turkey! A total of 36 different rhythmic patterns are included in the game and the students can fully dress a turkey after reading 4 patterns. There is the option at the end to dress another turkey. This allows the teachers and students to play this in whatever time they have allotted for the game- in other words you can use this as a quick filler or as a longer activity!
For each rhythmic set there are two PDFs, one written with note heads and one without.
Two games are included for each of the following rhythmic elements:
quarter rest
half note *Because of the limited combinations of half notes there are approx. 2-3 ta ti-ti & rest only patterns.
tika-tika
ti-tika
tika-ti
syncopa
tam-ti
ti-tam
If you enjoy this file you might also enjoy:
Thanksgiving Dinner Beat Strips
Free the Birds: A Collection of Games for Melodic Practice, Bundled Set
Your opinion matters to me! You can earn TpT credit by rating this file!
Please follow my Teachers Pay Teachers store for monthly deals and freebies. And you can follow me on Facebook
Please follow my blog for more teaching ideas:
Thanks so much for stopping by!
Report this resource to TPT