Introducing Paragraphs | Guide to Writing Paragraphs | Print and Digital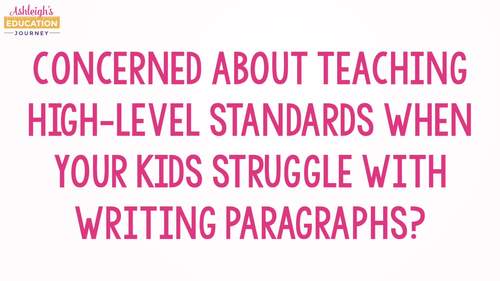 ;
PDF

Google Apps™
Includes Google Apps™
The Teacher-Author indicated this resource includes assets from Google Workspace (e.g. docs, slides, etc.).
What educators are saying
Love this resource! I've used it for years. I love that I can teach rules and procedures while teaching paragraphs as well. Thank you!
Such a great resource! It is the perfect review of paragraph writing and the lessons are great for back to school. The students really enjoy them!
Description
Teach students HOW to write a paragraph with these simple steps!
Use back to school picture books to give students step-by-step lessons in how to write a structured paragraph!
***************************************************************************
Use Picture Books That Focus on Procedures
At the beginning of the school year I love reading picture books that focus on classroom procedures. I feel that these books help teach students my behavior expectations in a student friendly way. However, I've always felt a bit concerned about using so much class time to teach these procedures.
Use the Procedural Books to Teach Writing
These lessons ALL incorporate popular back to school books with writing lessons! The lessons break down how to write a complete five sentence paragraph is easy to understand parts. Each lesson is written with a mini lesson, independent work time, and closing. There is a graphic organizer or printable for each lesson.
***************************************************************************
What's Included
7 Lessons and Printables
*Day 1-Getting Started
*Day 2-Brainstorming Details
*Day 3-Writing the Body of a Paragraph
*Day 4-Writing a Topic and Closing Sentence
*Day 5-Writing a Paragraph
*Day 6-Revising a Paragraph
*Day 7-Paragraph Assessment
*Rubric
Books Incorporated
*Pictures From Our Vacation
* What if Everyone Did T hat
* My Mouth is a Volcano
*How Full is Your Bucket
*I Just Don't Like the Sound of No
*A Bad Case of Tattle Tongue
Yes, this can be used with my writing units!
I plan to teach this mini unit before I begin teaching my Common Core Writing Units.
Check out these other writing units!
Report this resource to TPT
Standards
to see state-specific standards (only available in the US).
Write opinion pieces in which they introduce the topic or book they are writing about, state an opinion, supply reasons that support the opinion, use linking words (e.g., because, and, also) to connect opinion and reasons, and provide a concluding statement or section.
Write informative/explanatory texts in which they introduce a topic, use facts and definitions to develop points, and provide a concluding statement or section.
Write narratives in which they recount a well-elaborated event or short sequence of events, include details to describe actions, thoughts, and feelings, use temporal words to signal event order, and provide a sense of closure.
With guidance and support from adults and peers, focus on a topic and strengthen writing as needed by revising and editing.
With guidance and support from adults, use a variety of digital tools to produce and publish writing, including in collaboration with peers.