Jamestown Unit {Digital & PDF Included}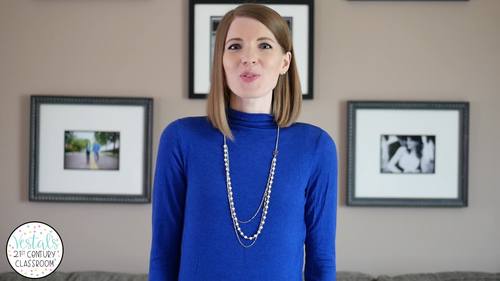 ;
95 PDF pages, 38 digital pages
What educators are saying
This unit is AMAZING! I love how thorough each lesson plan is! I also love the interactive activities! Thank you!
I have never taught 4th grade Virginia Studies until this year and this was a great resource for the standard!
Also included in
This Virginia Studies Lesson Plans and Activities comes with EVERY lesson and activity needed to teach Virginia Studies for an entire year at a discounted price! Each Virginia Studies unit is hands-on and incorporates lots of critical thinking and literacy skills. Examples of hands-on activities inc

Price $201.76

Original Price $224.18

Save $22.42
Description
Virginia Studies: Jamestown Unit is a hands-on unit that combines history and language arts skills! Everything you need to teach a unit about the Jamestown settlement can be found here!
For a closer look at the activities in this unit, see the product preview!
What Skills Are Covered In This Virginia Studies Unit?
This Jamestown Unit includes 7 detailed lesson plans. All lessons are hands-on and incorporate literacy skills. Students will investigate--
Reasons for English settlement in America
The Virginia Charter
Reasons for settlement at Jamestown
Hardships the settlers experienced at Jamestown
The relationship between the English settlers and the American Indians
The creation of The General Assembly at Jamestown
Africans at Jamestown
Women at Jamestown
What Is Included In This Virginia Studies Unit?
This Jamestown Unit comes with:
19 Worksheets
13 Timeline Cards
7 Close Reading Passages & Comprehension Questions: All of the passages and questions can also be shared with students digitally and completed using Google Slides.
8 Writing Activities: Students will pretend to be a settler at Jamestown and create a journal to record their experiences. Students will also create newspaper ads for The Virginia Company of London.
5 Hands-On Activities: Students will create many items to show what they have learned such as a mobile, a diorama, and a charter.
4 Entry/Exit Tickets
2 Sorts
1 Group Activity: Students will work with a group to create a government for Jamestown.
1 Quiz
1 Final Test
1 Timeline of Suggested Activities: Provides a timeline for using the activities included within this unit and provides links to websites featuring videos about concepts being taught.
Answer keys included throughout
Students will become fully immersed in learning about Jamestown as they complete hands-on activities, watch video clips, and research past events!
Are Digital Resources Included?
All of the passages and comprehension questions, most worksheets, the quiz, and the test within this Jamestown Unit are also included in a digital format and can be shared with students using your Google Drive.
When you purchase this product, you will be given access to a link that will allow you to open the file in Google Slides. You'll then share that file with your students. The slides can be printed and adapted for students who prefer to answer the questions by hand. You can also view and print a student's completed version of the slides. Video tutorials are also included to help you share interactive Google Slides with your students.
What Standards Are Covered?
This unit is specifically aligned with Virginia Studies SOL VS.3. The unit has been updated to reflect the 2015 changes to the standard.
What Are Other Buyers Saying?
"This was a wonderful addition to my classroom as I teach language arts and Virginia studies only. This being my first year in 4th grade, easy to use resources are a must for me and I love this unit!" (Heather P.)
"Love this resource! Hitting on the SOL's perfectly. Thank you so much!" (Dianne L.)
"These were perfect to help me prepare for my upcoming class. I've gotten them all ready and it saved me a lot of time. Thanks!" (Diana J.)
"My students loved this! Thank you for a great resource!" (Erin D.)
"This bundle was amazing! It saved me SO much time! Thank you so much for your hard work!!"
The following product is included in this unit:
Jamestown Passages & Questions
Want to save money?
This Jamestown Unit is included in the Virginia Studies Bundle for a discounted price!
You may also be interested in:
Virginia Studies Task Cards Bundle
Virginia Studies Passages & Questions Bundle
--------------------------------------------------
Other Information:
Follow my TpT store to learn about the newest resources and freebies!
Feedback helps me to create great products for you to use in your classroom. Please consider leaving detailed feedback about how this resource worked in your classroom. Each time you provide feedback, you earn TpT credits that can be redeemed for free and discounted resources on TpT in the future.
©Meghan Vestal, Vestal's 21st Century Classroom. All rights reserved. This product is to be used by the original downloader only. Copying for teachers, classroom, department, school, or school system is prohibited. This product may not be distributed or displayed digitally for public view. Teachers may NOT upload the product to school/district servers, or to any website, or share digital or print copies. Failure to comply is a copyright infringement and a violation of the Digital Millennium Copyright Act (DMCA).
Total Pages
95 PDF pages, 38 digital pages
Teaching Duration
2 Weeks
Report this resource to TPT