January Calendar for Smartboard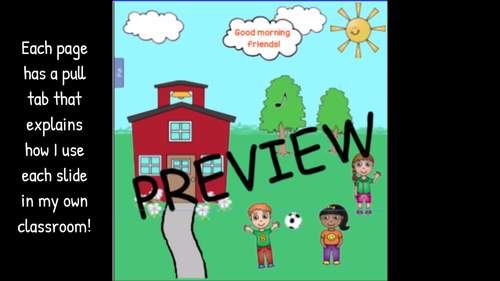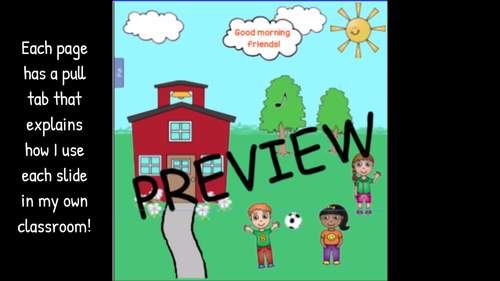 Created By
Alex Pfeifer
File Type
NOTEBOOK (SMARTboard) File
(
10 MB
|
16 pages
)
Product Description
Welcome to Calendar Time totally on the Smartboard!
This product is full of video links to get your students singing, dancing, and interacting with elements of the calendar, money, the alphabet, and numbers!
Each page has a pull tab with information about how I use this product in my own kindergarten classroom.
Fonts used are listed on the 'credits' page to maximize cuteness :)
This 15 page product includes pages on:
Lunch Choice
-Students can drag their name to the lunch choice number they'd like for today
Good Morning
-Link to a fun song/video
Number of Days in School
-Using hundreds, ten sticks, and ones
January Calendar
-Drag today's number card up to the calendar
-All number cards are in an AB color pattern
-You also have the ability to personalize the calendar with your classroom's birthdays, special days, field trips, and no school days
Days of the Week
-A link to a fun song/video
-Boxes to drag the correct day of the week for yesterday, today, and tomorrow
Months of the Year
-A link to a fun song/video when you click on January
Weather & Season
-Use pictures to identify weather
-Add to the weather graph
-Link to a song/video
-Identify what the weather feels like with labels on the thermometer
Money
-Includes a link to a fun song/video for penny, nickel, dime, quarter, and the dollar bill
-Interactive dice to roll and drag coins to show that amount in two different ways
Letter Identification
-Link to alphabet song/video
-Alphabet chart to work on letter id
Missing Letter
-Use objects on page to cover a few letters on the alphabet chart and have kiddos identify what letters are missing
Poetry (finger play)
-Read aloud the poem (itsy bitsy spider for October) and do finger play
-Circle sight words, letter of the week, chunks, digraphs, ending marks, etc.
Mystery Number
-Go through numbers on the number line
-Provide clues about your mystery number for kiddos to identify
Patterns on a Hundred Chart
-Students highlight a row or column on the 100 chart then identify the numbers and if the highlighted pattern is counting by ones or tens
Blending
-Drag the boxes to reveal words for kiddos to practice reading
-Edit the words each day to reinforce skills your class is learning
Pattern
-Use the pictures on the page to create a pattern for your kiddos to finish
-Write the fancy name for the pattern you created (AB, ABB, ABC, etc.)
Brain Break
-Once calendar time is finished get your kiddos up and moving!
Report this Resource to TpT