Just Add Manipulatives Part 3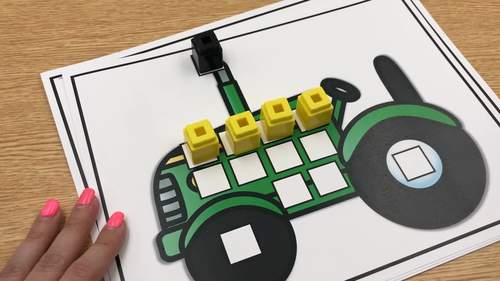 ;
What educators are saying
These are awesome! I have all three sets! They make excellent centers/activities in my pre-k classroom.
What an amazing resource! I love how I can easily put these cards with different manipulatives for a simple low prep center!
Description
This packet is designed to offer a fun and engaging way to practice number sense, shapes and patterning. You will be able to use these activities as a supplement to your math lesson and/or as an independent math center option. To prep the cards simply print and laminate for best repeated use. I would suggest that you first introduce this packet whole-group and then place into an independent math center. Students will simply view the card and add the correct manipulatives. There are 500 cards included within the packet. If placing these cards within a math center I would suggest you put no more than 10 cards in the center.
Do you have a few extra moments? Watch THIS video!
How many tasks are included?
- 500 cards are included (see below for a detailed list)
What skills/topics are covered?
Teddy Bear Patterns (40 cards)
Fuzzy Pom Caterpillars (30 cards)
Watermelon Button Seeds (20 cards)
Donut Fuzzy Pom Sprinkles (20 cards)
Snap Cube Mats (20 mats)
Pattern Block Mats (20 mats)
Ocean Manipulative Cards (180 cards)
Forest Manipulative Cards (180 cards)
Button Sorting (16 mats)
Bingo Chip Mats (20 mats)

VIEW PART 1 HERE
Questions?
Please email me at littlemindsatworkllc@gmail.com
Would you like to receive notifications for my newly released packets and upcoming sale? Be sure to FOLLOW ME here on TPT!
**Join my private Facebook Group to join fellow Pre-K, Kindergarten, First Grade and Second Grade teachers that use my curriculum! Collaborate, chat and share ideas with like-minded teachers! Join the private Facebook group H E R E!
Visit my blog Little Minds at Work
Follow me on Facebook
Report this resource to TPT