K-3rd Grade Reading Comprehension Passages | Main Idea and Details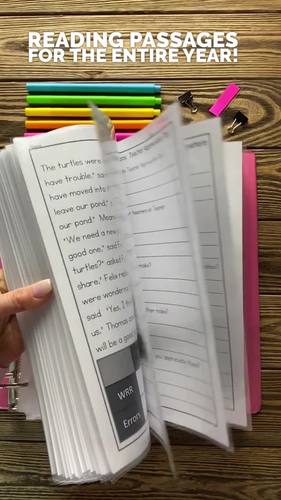 ;
What educators are saying
I found this resource very helpful for practicing fluency and comprehension. My students enjoyed using similar texts with varying levels of difficulty. Thank you!
If you teach special needs students ( or as I like to phrase it, students with unique gifts) than this resource is for you! Comprehensive and well organized make it user friendly. Thank you.
Products in this Bundle (4)
Description
In this bundle, you get 10 passages for each grade level, each month along with 10 comprehension questions! That's 480 passages that you will have at your fingertips in four different monthly-themed bundles!
120 Practically First Grade Passages
120 First Grade Passages
120 Second Grade Passages
120 Third Grade Passages
Why bundle? Because we understand that you have a range of learners in your classroom! These passages have similar themes, but they are differentiated at a 1st, 2nd, and 3rd grade reading level!
Why Comprehension Passages?
It is important to remember that sometimes we emphasize fluency so much, that we forget about comprehension.
That is why we created these passages AND comprehension sheets.
The comprehension questions include text-dependent questions and higher-level thinking questions.
This helps to identify students that are missing comprehension skills after they read the assigned passages.
If you are looking for high-interest, grade-level appropriate passages, you are in the right place.
Here's What's Inside!
480 Practically 1st, First, Second, and Third Grade Monthly Themed Fluency Passages
Recording and Accountability Graph
Comprehension Questions (with text dependent and higher level questions)
Word Count and Answer Key for Teachers
TERMS OF USE:
Thank you for your purchase! By purchasing this resource, you are agreeing that the contents are the property of Emily Garcia/Education to the Core, and licensed to you only for classroom/personal use as a single user. I retain the copyright, and reserve all rights to this product.
You May:
Use items (free and purchased) for your own classroom students, or your own personal use.
Reference this product in blog posts, at seminars, professional development workshops, or other such venues PROVIDED there is both credit given to myself as the author and a link back to my TPT store is included in your post/presentation.
Distribute and make copies of free items only to other teachers PROVIDED there is credit given to Emily Liscom Garcia and a link back to my TPT store.
You May Not:
Claim this work as your own, alter the files in any way, or remove/attempt to remove the copyright/watermarks.
Sell the files or combine them into another unit for sale/free.
Post this document for sale/free elsewhere on the internet. (This includes Google Doc links on blogs.)
Make copies of purchased items to share with others is strictly forbidden and is a violation of the Terms of Use, along with copyright law.
Obtain this product through any of the channels listed above. Thank you for abiding by universally accepted codes of professional ethics while using this product.
Customer Tips:
How to get TPT credit to use on future purchases:
Please go to your My Purchases page (you may need to login). Beside each purchase you'll see a Provide Feedback button. Simply click it and you will be taken to a page where you can give a quick rating and leave a short comment for the product. Each time you give feedback, TPT gives you feedback credits that you use to lower the cost of your future purchases. I value your feedback greatly as it helps me determine which products are most valuable for your classroom so I can create more for you.
Be the first to know about my new discounts, freebies and product launches:
Look for the green star next to my store logo and click it to become a follower. Voila! You will now receive email updates about this store.
If you have any questions about this resource, please contact me at customersupport@educationtothecore.com
Report this resource to TPT