KIDS COPING SKILLS! Stress Management Social Emotional Lesson + SEL Activities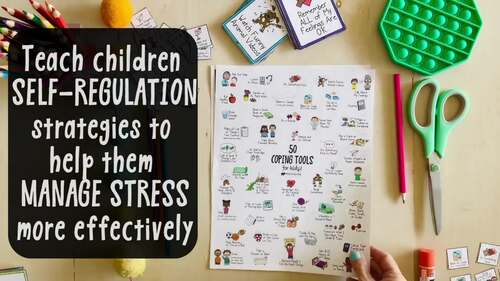 ;
Zip

Google Apps™

Internet Activities
Includes Google Apps™
The Teacher-Author indicated this resource includes assets from Google Workspace (e.g. docs, slides, etc.).
What educators are saying
I love the visuals on the resource. I use it with individual students so they can build their own toolbox of coping skills.
This was a great resource for a challenging year. Students were able to put this in their folder and have options to help them cope with different situations.
Also included in
This School Counseling Therapeutic Interventions Bundle is a collection of resources designed to promote student growth, agency and success. Composed of many WholeHearted School Counseling's best sellers, many which are digital and can work for distance learning, it is the perfect toolkit for your

Price $36.00

Original Price $52.75

Save $16.75

This Self-Regulation Coping Skills Bundle will help to teach young people coping skills and self-regulation strategies. This coping skills toolkit is perfect for your SEL (Social Emotional Learning) Curriculum, Trauma Sensitive Classrooms, Calm Corner, individual and group counseling sessions, and

Price $28.00

Original Price $50.25

Save $22.25

Save tons of planning time and get your students excited about social emotional learning with WholeHearted's Storewide Growing Bundle! Grab over 140 effective and fun counseling and SEL activities and lessons at 50% off. And help your students to build healthy social emotional skills, such as self

Price $272.11

Original Price $544.22

Save $272.11

This social emotional learning mega bundle contains many of WholeHearted School Counseling's SEL games and activities to help children learn, practice, and develop coping skills, self-regulation, social skills, and self-esteem. This SEL Bundle contains some of WholeHearted's top selling resources.

Price $185.00

Original Price $301.25

Save $116.25

What's in this Coping Tools Bundle: Classroom YogaKids Coping Skills: Stress Management SEL Distance LearningDigital Animated Breathing ExercisesSelf-Regulation Coping Skills & Social Emotional Learning BookMindfulness Breathing Exercises for KidsPortable Calm CornerCalm Down CornerDigital Calm

Price $33.00

Original Price $56.25

Save $23.25

This SEL Distance Learning Bundle includes Coping Tool Resources on Google Slides™, so that you can continue to support your student's social emotional needs during these challenging times. Save over 35% when you purchase this SEL Bundle, as compared to purchasing each resource individually. What'

Price $25.00

Original Price $41.00

Save $16.00

Price $55.00

Original Price $101.50

Save $46.50
Description
Teach your students effective self-regulation strategies with this engaging social emotional learning activity and stress management coping skills lesson. Filled with awesome visual supports, this SEL coping tools toolbox helps children identify healthy calming tools to manage uncomfortable feelings.
When children build their emotional regulation toolbox, they learn how to manage stress more effectively. A less stressed out brain means a child who is more ready to learn, focus in class, get along with others, have a growth mindset, be resilient, and make thoughtful, responsible decisions. All behaviors that make classroom management easier for you, too!
Used by over 22,000 educators, counselors & parents!
Offers tons of differentiated instruction possibilities, too!
CLICK ON THE PREVIEW BUTTON ABOVE TO SEE MORE!
WHAT'S INCLUDED
Social Narrative Lesson about How Coping Tools Can Help You
Coping Tools for Kids Checklist
50 Coping Skills for Kids Sorting Cards (make double copies and play a memory game!)
Healthy Coping Tools Collage Cards
Coping Skills Sorting Worksheet
My Coping Strategies Survival Guide Worksheet
What Helps Me Checklist
Coping Skills Fortune Teller
Lesson Plan, aligned with ASCA Mindsets & Behaviors
Coping Strategies BINGO activity
Printable and Digital Files*

* Please Note: The printable files come in two different illustration styles. The newer version includes both color and black & white printing. Digital files and social narrative are only in newer illustration style.
WAYS TO USE
Counseling and social emotional learning classroom lesson
Awesome tools to add to your Calm Down Corner
Small group activity (great for anger and stress management elementary groups)
Individual Counseling, as therapeutic intervention & assessment
Homeschool and at home activities with your children
Counseling office and classroom decor
Review ideas by flipping through the Task Cards, by completing the What Helps Me Checklist, or by doing a more creative activity using the Healthy Coping Tools Collage Cards.
Create art using the Healthy Coping Tools Collage Cards and "My Coping Toolbox," "What Can Help," "Yes, Hmm, Nah Sorting Page," and "My Coping Strategies Survival Guide" worksheets.
Play a fun fortune teller game that reinforces favorite coping tools.
WHAT EDUCATORS AND PARENTS ARE SAYING:
What an awesome resource. I used this with my classroom and with my own kids! I love the tools that it gives to kids. Fantastic. -Kristy
This resource is a must-have in my office. I come back to it time and again with my students. It is an excellent way to teach them about a large variety of coping skills! - Kelsey
This is my absolute favorite resource that I have purchased on this site. It has so many activities available, explains concepts and activities incredibly well, and my students have enjoyed everything we've done from this resource. - Cristina
This is an amazing resource!! I used different pieces of it for coping skills lessons with grades 1st-5th. The kids loved the activities (especially the fortune teller) and it was such a fun way to talk about coping skills! I will definitely be using this again and again for individual, group, and whole class lessons! - Rebecca
WHY TEACH AND PRACTICE HEALTHY COPING TOOLS?
Life can get really tough. So it's important to help young people -and ourselves, too- to cultivate tools and tricks that can support us to get through the hard stuff of living, to relate to uncomfortable feelings with self-compassion and to practice skills that can help us to feel calmer and more relaxed. This is where using healthy coping strategies come into play. Healthy coping skills will not get necessarily get rid of the challenging, stressful situations (especially those we don't have control over), but they can help us to make better, more empowering choices and move aside some of the confusion, chaos, blahs & crazies so that we can better see the silver lining, cup-is-half-full perspectives and possibilities. Moreover, using healthy coping strategies can help us build our strengths and resiliences and are a means to take good, kind-care of ourselves.
What Other Counseling, Wellness, or Social Emotional Learning Resources Do You Recommend to Help My Students or Children Regulate Their Emotions?
What ASCA Mindsets & Behaviors Standards Does The 50 Coping Tools for Kids Cover?
M 1. Belief in development of whole self, including a healthy balance of mental, social/emotional and physical well-being
B-SMS 7. Effective coping skills
B-SMS 1. Responsibility for self and actions
___________________________________
Learn about sales, freebies & new resources (that are always 50% off the first 48 hours!):
___________________________________
Earn TPT credit to Use on Future Purchases:
Visit your My Purchases page.
Click on the Provide Feedback button for any Paid Resources.
Leave a short comment and rating.
___________________________________
Need Help With Your Files?
Visit the FAQs section
Contact TpT Tech Support and submit a help ticket
Ask WholeHearted School Counseling™ a question via the Q& A tab
___________________________________
Terms of Use
This resource was created by WholeHearted School Counseling™, all rights reserved. When you purchase a license, it may be used for your personal single classroom, counseling office, or home use only. If you would like to share this product with other teachers, counselors, staff, or administration, please either refer them to WholeHearted School Counseling's™ store or purchase an additional license for each adult use. You can read more details about copyright and terms of use here.
Thank you for respecting the Copyright and Terms of Use boundaries. Take good, kind care of yourself. ❤️
Report this resource to TPT