KINDNESS COLORING PAGES Activity - Kindness Quotes Posters for Bulletin Boards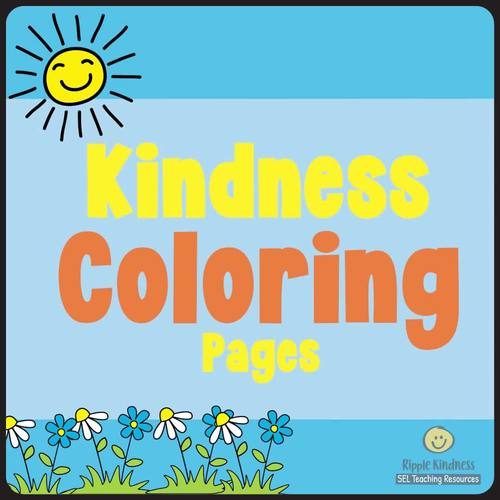 ;
What educators are saying
These pictures went great with my social skills lesson, and it gave me some more books on the same topic to use and reinforce our learning about being kind to one another.
THese color sheets were adorable and perfect for my pre-k students. We displayed around the room to celebrate World Kindness Day!
Also included in
Want some back to school kindness activities to encourage good behavior, build character traits and reinforce healthy friendships? Our acts of kindness checklists and coloring pages bundle will help you create a positive classroom community where students care for and support one another. This SEL

Price $8.50

Original Price $9.45

Save $0.95

Do you need to improve social skills and behavior? Use our pledge poster kit to set expectations and best-selling kindness coloring pages to reinforce friendship and respect. The personal pledge and class pledge bulletin board helps students to make good choices to address bad behavior and bullying.

Price $7.85

Original Price $8.74

Save $0.89

Build character traits and encourage acts of kindness to build an inclusive classroom community with this back-to-school activities bundle. Teach about kindness, respect, and friendship with kindness coloring pages, character-building posters, and editable Google Slides™ kindness checklists. A great

Price $12.50

Original Price $14.40

Save $1.90

Is classroom behavior a problem? Kindness activities are fun and engaging and help improve friendships, happiness and wellbeing. Use kindness coloring pages with positive affirmations, editable kindness checklists (students will be practicing writing without even realizing it), or our gorgeous kindn

Price $31.50

Original Price $40.25

Save $8.75

This kindness activities bundle with 13 growth mindset resources includes kindness coloring pages, positive affirmations bookmarks, checklists and more to encourage friendship, gratitude, and a positive classroom culture. These no-prep activities help teachers and counsellors foster kindness, gener

Price $39.95

Original Price $48.55

Save $8.60

Students will LOVE this SEL bundle of kindness activities. My popular kindness fortune teller, checklist challenge, bookmarks secret mission, relaxing coloring pages, growth mindset posters, and beautiful kindness tree are a lot of fun AND encourage respect and good behavior.Here's what's included i

Price $23.95

Original Price $33.10

Save $9.15

This coloring pages bundle includes 125 worksheets to provide hours of fun and learning. This activity provides spatial and coordination benefits while nurturing important character traits, building self-esteem, encouraging friendship and a growth mindset, and so much more! With character-building m

Price $17.35

Original Price $20.19

Save $2.84

This big bundle of bookmarks and coloring pages reinforces kindness, friendship, and gratitude. Students also learn about giving compliments with positive affirmations that build confidence, self-esteem, and a growth mindset. Save 40% on this bundle which includes 365 coloring sheets and bookmarks i

Price $32.50

Original Price $48.85

Save $16.35

Tired & grumpy at the end of the year? Do you need quiet but fun activities and coping skills to help students stay calm? Mindfulness activities like a chocolate meditation help teach calming strategies while kindness activities such as our coloring pages and fortune teller are fun quiet activit

Price $41.50

Original Price $52.65

Save $11.15
Description
33 no-prep kindness coloring pages with friendship quotes for a calming SEL activity for brain breaks or early finishers. Colored posters make an appealing growth mindset bulletin board to encourage positive thinking and good behavior choices. There is also a bucket filler component to help nurture a positive classroom community.
A quick, easy mindfulness activity when your students have lost concentration and need a brain break.
Use when you want to engage your students in some meaningful reading practice.
The kindness quotes offer positive affirmations that challenge negative thinking to improve happiness, wellbeing, and behavior.
These growth mindset coloring pages help develop:
- fine motor skills
- spatial awareness
- small muscles in the hand needed for writing
- concentration and focus
- the ability to slow the brain down to be mindful - reading
Use coloring as a first step toward young children learning to draw or write with a pencil or pen.
Students can complete multiple coloring sheets during the year to make their own kindness book.
Use completed sheets as colorful posters to hang as reminders of the positive behavior you expect (research shows that 65% of people find visual learning more effective).
A fun and engaging art activity to participate in Random Acts of Kindness and World Kindness Day.
Reading the positive affirmations can help build character traits and social skills that strengthen friendships.
Great for early finishers or an easy activity for substitute teachers.
Use the positive quotes to start discussions around kindness and respect.
These growth mindset coloring pages are versatile and educational.
Feedback suggests that teachers are mostly using the coloring sheets with students in Kindergarten, Grade 1, Grade 2, Grade 3, and even higher year levels.
*** Click here to follow my store and learn when I post new resources and freebies.
33 kindness coloring pages, including a kindness poster
6 bordered note papers for drawing and writing activities - 3 lined, 3 blank
1 full-color ready-to-print kindness poster
A BONUS introduction to bucket filling
Information about the benefits of kindness
Information about the benefits of coloring
Kindness book suggestions
➡️ Happy Teacher Feedback
"I used these little posters for Pink Shirt Day. I printed them out on pink paper and gave copies to the school Justice League. They each completed 1 to 2 posters and then I hung them around the school so that we had a sea of pink for Pink Shirt Day." - Donna A (used with 1st, 2nd, 3rd, 4th grades)
"This is a great resource! Coloring helps kids focus and be mindful and the kindness pages provide a good message." - Susan S
► Want to share these coloring pages? Please purchase an additional license for each classroom.
* You will need Acrobat 7.0 or later - please contact me if you have an earlier version.
••••••••••••••••••••••••••••••••••••••••••••••••••••••••••••••••••••••••••••••••••••••••••
••••••••••••••••••••••••••••••••••••••••••••••••••••••••••••••••••••••••••••••••••••••••••
If you have any questions or ideas for other products you'd like to see in our store, we'd love to hear from you!
Please email us at lisa@ripplekindness.org or find out more about what we do at www.ripplekindness.org.
Have a great day! ☺
••••••••••••••••••••••••••••••••••••••••••••••••••••••••••••••••••••••••••••••••••••••••••
Customer Tips
★ Did you know you can save money on TpT resources by leaving feedback?
You can receive credit towards future TpT purchases by reviewing products.
If you like this one, please leave a review on the product page or through "My Purchases" under "My Account".
Your feedback is of great importance to us as it helps in determining which products are most valuable to you and your students.
★ Click here to follow my store and be notified when new products and freebies are added.
••••••••••••••••••••••••••••••••••••••••••••••••••••••••••••••••••••••••••••••••••••••••
© Ripple Kindness Project
Materials are intended for personal use in one classroom only. For use in multiple classrooms, please purchase additional licenses.
Report this resource to TPT