Kaboom! Elementary Music Game for Centers MEGA BUNDLE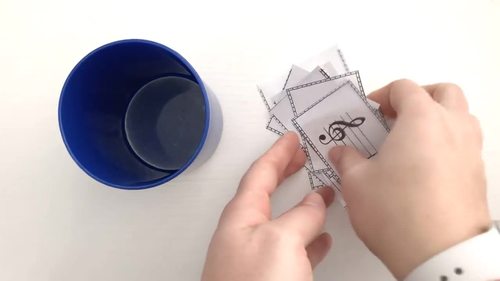 ;
What educators are saying
My students were so engaged while using this resource! I have only used a handful of the sets, but I have already printed and laminated more sets for next year. Thank you!
The kids love this one when we do centres. I love that I can use kaboom regardless of what our focus of study is at the time because the set is so comprehensive.
Products in this Bundle (24)
showing 1-5 of 24 products
Description
I always love to hear about other people's best lessons and games. Mine? Kaboom. This is the game that students BEG me to play. We play rhythm Kaboom, Solfege Kaboom, treble clef Kaboom, recorder Kaboom, etc. And they eat it up.
Kaboom is a great game. Print out the cards and put them into a box or bucket. Students take turn pulling out a card and saying which instrument family the instrument on their card is in. If they get it right, they keep it. If it is wrong, they put it back in the box, and the next student takes a turn. If they get a Kaboom, then they put all the cards back. Most cards at the end wins. This game never ends because eventually, they get Kaboom and put all their cards back in the bucket and start over.
I also like to listen and use it as an informal assessment.
THIS IS A PRINTABLE PRODUCT. IT CANNOT BE USED VIRTUALLY.
Perfect for beginning band, orchestra, or chorus as well as elementary music!
You may also like:
Write the Room instrument Families Activity
I Know a Shy Fellow who Swallowed a Cello Instrument Families Activity
Instruments of the Orchestra Bunny Matching Game
Join my free resource library to get exclusive FREE content!
Let's be friends!
Blog: Becca's Music Room
Happy teaching!
Report this resource to TPT