KinderJumpstart [end of the year Pre-K or back to school kindergarten]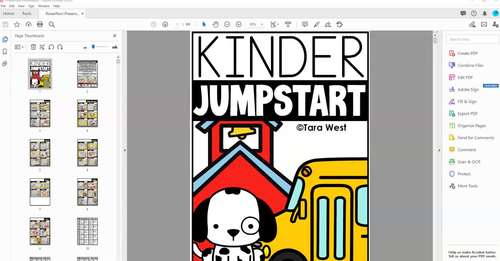 ;
What educators are saying
This is a great bundle with basic skills and kinder readiness resources! This will be great to use the rest of the materials at the end of the PreK year!
This resource is helping me out as I prepare for a sub for the first couple of days of the school year this year!
Also included in
* * SAVE BIG WITH THE BUNDLE! THIS BUNDLE CONTAINS $120 IN MATERIAL. GRAB IT ON SALE NOW! * * ** * * Questions? Click HERE to Instant Message me! * * * What packets are included? 1. Pip the Pup Books Galore (A set of 50 Pip the Pup books ranging from the alphabet, math, phonics, social skills, and

Price $50.00

Original Price $100.00

Save $50.00
Description
* * THIS PACKET IS PART OF VIP BUNDLE 4TH EDITION! SAVE BIG WITH THE VIP BUNDLE 4TH EDITION HERE * *

What is the KinderJumpstart packet?

This packet is designed as a 5 week, quick-implement program for teaching letters, numbers to 10, 2D shapes, color words, school supplies, manipulatives, and social emotional learning topics. This program can be used "buffet style" for implementation. This simply means that you can easily swap the order of the topics as you introduce them. You can vary the order of the letters, shapes, social emotional topics, etc. You will be able to use these activities as a supplement to your core curriculum programs, or KinderJumpstart as the core curriculum. This program is best used for end of the year pre-K students, beginning of the year kindergarten students, or pre-k to K bridge students (summer school) programs.

* * * Questions? Click HERE to Instant Message me! * * *
* * * VIEW A DETAILED PREVIEW VIDEO OF THE PROGRAM HERE! * * *

What skills are covered in the KinderJumpstart packet?

5 weeks of material
Letters Aa-Zz material (capital and lowercase taught together)
Numbers 0-10 material
2D shapes material
Color words material
School supplies material (manipulatives, too)
Social emotional learning oral routines

What is included in the KinderJumpstart packet?
5 weeks of overview maps
Routine cards
25 social emotional oral discussions
Jumpstart journal cover
Pip the Pup mentor text
Pip the Pup poster
Emotions check-in poster
Supply/binder labels
Print tips video
Alphabet overview posters
Alphabet chant posters
Alphabet paths of motion posters (capital and lowercase)
Alphabet paths of motion handwriting mats
Alphabet letter search mats
Alphabet dough mats
Alphabet craft hats
Alphabet letter bracelets
Alphabet printables
Numbers overview posters
Numbers paths of motion posters
Numbers paths of motion handwriting mats
Numbers earch mats
Numbers dough mats
Numbers bracelets
Numbers printables
Shapes overview posters
Shapes dough mats
Shapes bracelets
Shapes printables
School supply posters
School supply center wheels
School supply center mats
School supply mini booklets
School supply printables
Colors posters
Colors center wheels
Colors center mats
Colors mini booklets
Colors printables


Would you like to receive notifications for my newly released packets and upcoming sale? Be sure to FOLLOW ME here on TPT!

**Join my private Facebook Group to join fellow Pre-K, Kindergarten, First Grade and Second Grade teachers that use my curriculum! Collaborate, chat and share ideas with like-minded teachers! Join the private Facebook group H E R E!
Visit my blog Little Minds at Work
Follow me on Facebook
Report this resource to TPT