KinderSocialSkills: Social Skill Curriculum | GOOGLE™ READY | Distance Learning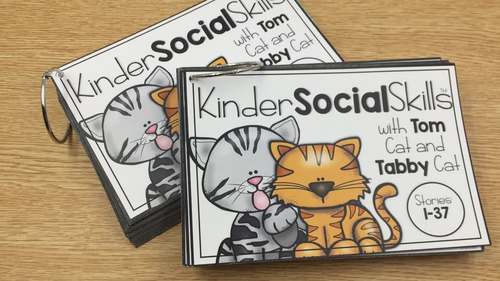 ;
Description
KinderSocialSkills: A social skills curriculum for primary-aged students! This packet is designed for the preschool and kindergarten classroom easily adapted to fit a guardian-led homeschool setting! If inquiring about this bundle for a homeschool setting, feel free to email me directly with any questions at tara@littlemindsatwork.org!

**THIS PACKET RECEIVED A FREE UPDATE! ALL OF THE DAY ONE STORIES ARE NOW AVAILABLE IN A GOOGLE SLIDES VERSION ALONG WITH THE PRINTABLES! >>> VIEW A PREVIEW VIDEO OF THE GOOGLE VERSION HERE <<<
What is KinderSocialSkills?
KinderSocialSkills Curriculum is an engaging social skills curriculum with young learners in mind! KinderSocialSkills takes 75 common social skills and teaches them in a kid-friendly way for students. The students are able to grow and develop by listening to the social stories. The social stories contain two main characters, Tom Cat and Tabby Cat. The two cats will take the students on adventures as they are introduced to the broad social skills context through both home and school settings.
Watch a video of the program ** HERE **
What is the structure of KinderSocialSkills?
KinderSocialSkills consists of 75 two-day lesson plans. Day one is an introduction of the skill and a social story. Day two is a review of the skill and a hands-on approach to applying the skill. On the second day the students are also asked to deeply think and apply the skill to their own lives. On both days the students will interact with their peers through verbal discussions. The teacher will lead the initial conversation and then turn it over to the students for their opportunity to have collaborative peer discussion. KinderSocialSkills also includes a follow-up independent writing sheet for each skill. This is a way for the students to put the skill on paper and for parents to be connected with the skill of the day. There is a note at the bottom of each paper so parents can track the social skill and hopefully continue the discussion of that skill at home.
What is included in KinderSocialSkills?
- 150 social skill lessons (75 skills spanning over 2 days each) *day one is a social story and day two is follow-up)
- 75 follow-up student sheets (2 differentiated versions included for non-writers and writers)
- paper clip art cat "puppets"
- notebook labels
- journal covers
What does the RESEARCH say about KinderSocialSkills?
Research shows us social skills are at times a bigger indicator for future success in life than academics (Robert Wood Johnson Foundation, 2015). That statement is profound. A longitudinal study regarding kindergarten students and social skills was conducted by Drs. Damon Jones and Mark Greenberg, both professors at Pennsylvania State University, and Dr. Max Crowley, a professor from Duke University. The kindergarten students were tracked over a 20 year period and the results were astonishing. The predictions made in kindergarten based upon their social skills had a direct correlation with outcomes met in mid-adulthood and later adulthood. The study showed that utilizing social emotional health programs at a young age can help to improve these social skills. Furthermore, when students are given an opportunity to learn social skills, educators and parents are given the ability to notice those lacking these social skills and then set up immediate and intense interventions to correct this disconnect. The researchers believed that social skills are just as vital in the kindergarten classroom as academics.
What skills are included in KinderSocialSkills?
Story 1: Taking Turns
Story 2: Following directions
Story 3: Following rules
Story 4: Sharing
Story 5: Being a good friend
Story 6: Impulse control
Story 7: Voice volume
Story 8: Tattling
Story 9: Being first and last
Story 10: Interrupting
Story 11: Personal space
Story 12: Asking for help
Story 13: Apologizing
Story 14: Helping
Story 15: Praising others
Story 16: Good sportsmanship
Story 17: Patience
Story 18: Compromising
Story 19: Respecting others
Story 20: Eye contact
Story 21: Identifying feelings
Story 22: Expressing feelings
Story 23: Encouragement
Story 24: Complimenting
Story 25: Communicating clearly
Story 26: Expected behavior
Story 27: Think before you speak
Story 28: Peer pressure
Story 29: Problem solving
Story 30: Manners
Story 31: Being flexible
Story 32: Accepting "no"
Story 33: Accepting criticism
Story 34: Celebrating success
Story 35: Asking permission
Story 36: Participation
Story 37: Staying on task
Story 38: Using names
Story 39: Conflict resolution
Story 40: Cooperation
Story 41: Forgiving
Story 42: Reliability
Story 43:Trust
Story 44: Initiating a conversation
Story 45: Holding a conversation
Story 46: Ending a conversation
Story 47: Responsibility
Story 48: Respecting yourself
Story 49: Respect property
Story 50: Respect others
Story 51: Respect authority
Story 52: Facial expressions
Story 53: Body language
Story 54: Honesty
Story 55: Perseverance
Story 56: Making mistakes
Story 57: Best effort
Story 58: Avoiding conflicts
Story 59: Accepting differences
Story 60: Confidence
Story 61: Actions impacting others
Story 62: Self-esteem
Story 63: Being bossy
Story 64: Being positive
Story 65: Calming down
Story 66: Making decisions
Story 67: Knowing strengths
Story 68: Knowing weaknesses
Story 69: Multiple friends
Story 70: Gratitude
Story 71: Sore loser
Story 72: Control
Story 73: Guilt
Story 74: Giving Criticism
Story 75: Separation
*Please note that the stories may be used in any order you choose!
Ah, I love this but I teach PreK/First/Sped?
You will notice that this packet is marked as Pre-K, Kindergarten and First Grade! This is not something I do often or lightly! I find it very frustrating to purchase a packet and it not be grade level appropriate. I have included two differentiated versions to all practice sheets. These two versions work for non-writers (coloring) and writers (writing 3-4 simple sentences). Please note that NO student materials and NO teacher materials have the "KINDER" name on them so you do not have to worry about this! As teachers we are the only ones to ultimately make the decision as to know if it will work for our kids, if I can help with this decision please let me know! Please note that I have included alternate covers.
Is KinderSocialSkills a lot of prep?
This unit is a quick and simple prep! You will need to decide first if you choose to place all of the lessons on one single book ring or two separate book rings. Your next decision will be to print out the kindergarten specific covers or the generic grade covers. Print out your covers and then print out the 75 pages of lesson plan cards. Each page will have two days of lesson plans. Once the lesson cards are printed out, you will then trim around the edges and cut away the extra white paper. Next, you will need to hole punch each of the lesson cards. Place the cards onto the book ring(s) and you are good to go. You can place the student response sheets in a teacher master binder or make student journals. Laminating the lesson cards is optional. Printing the lesson cards on cardstock is recommended for durability.
View KinderSocialSkills Version TWO here!
**Be sure to view the preview for lots of pictures!**
Are you interested in my additional content studies curriculum programs?
Check out the additional content curriculum programs below!
A SPECIAL thanks to EduClips for these adorable cat clips! Without the talented clip artists our curriculum packets would not be the same!
Visit my blog Little Minds at Work
Follow me on Facebook
Report this resource to TPT