Kindergarten Assessments | Preschool Assessments 3 Year Old Assessment BUNDLE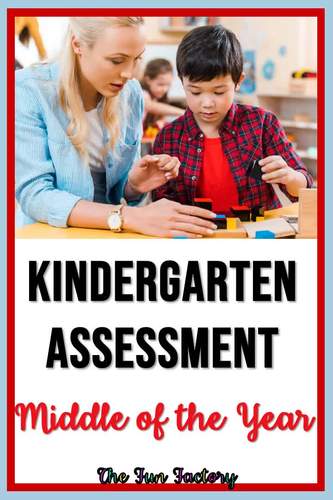 ;
Easel Activities Included
Some resources in this bundle include ready-to-use interactive activities that students can complete on any device. 
Easel by TPT is free to use!
Learn more
.
Products in this Bundle (3)
Description
Kindergarten assessments, Preschool Assessments, and 3-Year-Old Assessments for literacy and math all in one place! Math assessments and reading assessments are great assessment tools for the beginning of school, middle of the year, and end of the year for growth tracking. The Kindergarten assessment covers most Common Core and TEKS (for Texans) objectives. The assessments go far beyond just the objectives. If you teach ages 3, 4, and 5-year-olds, this is a lifesaver! If you are a Director of a center or if your school includes these age groups, this is perfect for you! Included is an EDITABLE section for you to type in your own sight words if words you need are not included. An editable assessment recording sheet is also included.
Buy this BUNDLE and save almost 30%!
Teachers have said:
"AWESOME! Exactly what I was looking for, detailed but not overwhelming for me to implement and my students to use."
"So many great assessment ideas and loved the organization, too!"
"This resource has been very useful!"
This comprehensive assessment includes:
✎ General Information About the Assessments
✎ Directions for Administration of the Assessments
✎ Year-At-A-Glance chart for easy reference as to when you should assess different components
✎ Math Assessment which includes:
✎ Oral Counting
✎ One-to-One Correspondence
✎ Making Groups of 2,3,5,7,9
✎ Patterns ABAB, AABAAB, ABBABB, ABCABC and open
✎ Color Recognition - red, orange, yellow, green, blue, purple, black, white, pink, brown, grey
NOTE: Cards are given to you for your convenience or you may use your own materials.
✎ Shapes - circle, square, triangle, rectangle, rectangle, oval, star, heart, trapezoid, diamond (rhombus), octagon, hexagon, pentagon, and open
NOTE: Cards are given to you for your convenience or you may use your own materials.
✎ Phonological Awareness Assessment
This assessment consists of two to three tasks at each level of the continuum for phonological awareness. These components include:
(1) rhyming - hearing rhymes
(2) rhyming – producing rhymes
(3) alliteration – determines if the child can hear words that begin with the same sound
(4) words in a sentence - use a counter to move for each word
(5) syllables
(6) onset/rime
Alphabet Letter Recognition and Letter Sounds Upper and lower case letters are included for your convenience or you may use your own letter cards or plastic letters.
(7) Sight Word Recognition There are 93 sight words. For your convenience, the sight words are included.
*****DISCLAIMER*****
This assessment document is strictly for your information to help guide instruction. It is in no way meant to prescribe or judge whether or not a child is ahead of or behind his/her peers.
☀☀☀☀☀☀☀☀☀☀☀☀☀☀☀☀☀☀☀☀☀☀☀☀☀☀☀☀☀☀☀☀☀☀☀☀☀☀☀☀☀☀☀
❤️ Don't forget that leaving positive feedback earns you points toward FREE TpT purchases. I love that feedback! Please rate this resource and leave feedback HERE.
❤️ Also, follow me to be notified when new products are uploaded. New products are always 50% off for the 1st ten buyers after they are posted. It pays to follow me! Be the first to know about our new resources. CLICK HERE.
❤️ If you have any questions or need help with this resource, please email us at
❤️ For FUN teaching ideas and freebies, visit us at The Fun Factory Blog
☀☀☀☀☀☀☀☀☀☀☀☀☀☀☀☀☀☀☀☀☀☀☀☀☀☀☀☀☀☀☀☀☀☀☀☀☀☀☀☀☀☀☀
Report this resource to TPT