Kindergarten Centers | Spinner Centers for Literacy and Math Year Long BUNDLE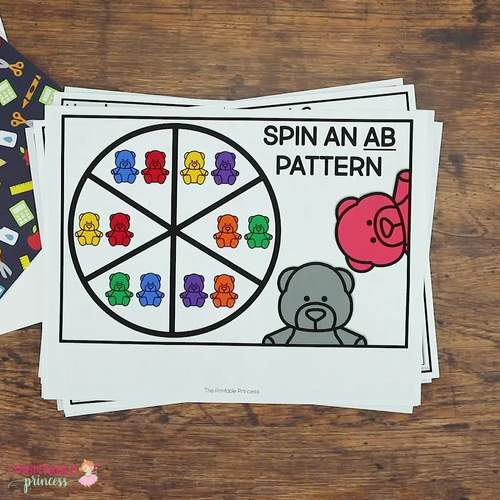 ;
What educators are saying
This is amazing! It was easy to prep and had enough games to keep my students engaged all year! I love how it was predictable so the kids could be independent. Highly recommend!!!
One of my most used resources. This aligned perfectly with curriculum standards. Easy to use and students absolutely love these activites. Thank you for this amazing resource.
Products in this Bundle (2)
Description
This resource is a perfect way to make Kindergarten centers EASY to prep and plan, interactive, meaningful, and FUN! With 100 Kindergarten literacy and math center activities included, there's more than enough to incorporate a "spinner center" in your classroom for the entire school year!
Inside you'll find a wide variety of Kindergarten skills including:
letter recognition
letter/word/sentence
phonemic awareness
beginning sounds
ending sounds
middle short vowel sounds
nouns
color words
CVC words
CVCe words
word families
numbers to 5, 10, and 20
shapes
patterns
making 5
making 10
counting
ten frames
addition
subtraction
and MORE!
The directions for each center stay the same – so you can explain once, and your students will know what to do every time. The only thing that changes is the skill they are practicing. There are no themes included in this packet, so all of the activities are perfect year-round. With the clickable table of contents at the beginning of the packet, you can easily find what you need and have it ready when your students are.
The activities in this resource are designed to provide your students with a hands-on and interactive way to practice the math skills covered in Kindergarten. You can use these activities as a literacy or math station, morning tub activities, or fast finisher tasks.
Students will record their answers using a color code so you can easily check their work and monitor their progress! Each activity includes teacher-friendly directions and Kindergarten-friendly "I Can" visual directions. These are great for keeping students on task or to show what students are working on during administration walk-throughs!
To prepare each activity just print and laminate the spinner and print the black and white recording sheet. You could also place the recording sheets in a page protector and have students use plastic math cubes to cover their answers. To help keep you organized, the title and picture on the spinner and recording sheet match.
Students will need a paper clip and a pencil to make a spinner. You can also use plastic transparent spinners if you have them. I got mine on Amazon and I love them! Students will also need crayons to color their answers.
Activity Directions: Students will spin the spinner and identify their spinner and the color. They will find a corresponding answer on the recording sheet and color, write, or trace the answer using the color code.
LITERACY ACTIVITIES:
1. Letter or Word?
2. Letter, Word, or Sentence?
3. Number of Letters: Counting Letters in a Word
4. Number of Words: Counting Words in a Sentence
5. Uppercase or Lowercase
6. Letter Match 1: Uppercase to Uppercase
7. Letter Match 2: Lowercase to Lowercase
8. Make a Match 1: Uppercase to Lowercase
9. Make a Match 2: Lowercase to Uppercase
10. Where's the Sound? 1: Beginning, Middle, or End
11. Where's the Sound? 2: Beginning, Middle, or End
12. Same Beginning Sounds 1: Match Picture to Picture
13. Same Beginning Sounds 2: Match Picture to Picture
14. Beginning Sounds 1: Match Letter to Picture
15. Beginning Sounds 2: Match Letter to Picture
16. Same Ending Sounds 1: Match Picture to Picture
17. Same Ending Sounds 2: Match Picture to Picture
18. Ending Sounds 1: Match Letter to Picture
19. Ending Sounds 2: Match Letter to Picture
20. Same Middle Sounds 1: Match Picture to Picture (Short Vowel)
21. Same Middle Sounds 2: Match Picture to Picture (Short Vowel)
22. Middle Sounds 1: Match Letter to Picture (Short Vowel)
23. Middle Sounds 2: Match Letter to Picture (Short Vowel)
24. Rhyming Words 1: Match Picture to Picture
25. Rhyming Words 2: Match Picture to CVC Word
26. Rhyming Words 3: Match CVC Word to CVC Word
27. Syllables 1: 1, 2, and 3 Syllables
28. Syllables 2: 2, 3, and 4 Syllables
29. Read the Word 1: Real and Nonsense CVC Words
30.Read the Word 2: Real and Nonsense CVCe Words
31. Colors All Around 1: Color Words - Yellow, Blue, Brown, and Purple
32. Colors All Around 2: Color Words - Red, Black, Orange, and Green
33. Nouns: Person, Place, Thing, or Animal
34. Short or Long 1: Vowel Sounds with Pictures
35. Short or Long 2: Vowel Sounds with Words
36. CVC Word Families 1: Short A
37. CVC Word Families 2: Short E
38. CVC Word Families 3: Short I
39. CVC Word Families 4: Short O
40. CVC Word Families 5: Short U
41. Mixed CVC Words 1: Word Families
42. Mixed CVC Words 2: Word Families
43. CVCe Word Families 1: Long A
44. CVCe Word Families 2: Long I
45. CVCe Word Families 3: Long O
46. CVCe Word Families 4: Long U
47. Mixed CVCe Words 1: Word Families
48. Mixed CVCe Words 2: Word Families
49.Beginning Digraphs: Ch, Sh, Th, Wh
50. Ending Digraphs: Ch, Sh, Th
MATH ACTIVITIES:
1. Spin and Count: Numbers to 5
2. Spin and Count 2: Numbers to 10
3. Count to 20
4. Numbers to 5: Using Ten Frames
5. Numbers to 10: Using Ten Frames
6. Numbers to 20: Using Ten Frames
7. Ten Frames: Numbers to 10
8. Ten Frame: Numbers to 20
9. Dot Cube Counting: Subitizing to 6
10. Spin a Domino 1: Subitizing to 5
11. Spin a Domino 2: Subitizing to 10
12. Numbers in Disguise 1: Recognizing Numbers to 5
13. Numbers in Disguise 2: Recognizing Numbers to 5 - 10
14. Numbers in Disguise 3: Recognizing Numbers to 10 - 15
15. Numbers in Disguise 4: Recognizing Numbers to 15 - 20
16. Make a Match: Base Ten to 20
17. Spin a Base Ten 1: Numbers 11 - 15
18. Spin a Base Ten 2: Numbers 16 - 20
19. Tens and Ones: Numbers 11 - 20
20. Show the Tens and Ones: Numbers 11 - 20
21. Teen Numbers: 11 - 20
22. Counting On: Numbers to 10
23: Before and After: Numbers to 10
24. Counting Back: Numbers to 10
25. Spin a Tally Mark: Numbers to 10
26. Spin a Word 1: Number Words to 10
27. Spin a Word 2: Number Words to 20
28. Spin and Write 1: Number Formation/Writing to 10
29. Spin and Write 2: Number Formation/Writing to 20
30. Let's Compare 1: Numbers Less and More than 5
31. Let's Compare 2: Numbers Less and More than 10
32. Let's Make 5
33. Let's Make 10
34. Piggy Bank Counting 1: Counting Pennies within 10
35. Piggy Bank Counting 2: Counting Dimes within 100
36. Addition within 5
37. Addition within 10
38. Subtraction within 5
39. Subtraction within 10
40. Spin a 2D Shape
41. Real World Objects: 2D
42. Spin a 3D Shape
43. Real World Objects: 3D
44. Spin a Pattern: AB
45. Spin a Pattern: ABB
46. Spin a Pattern: AAB
47. Spin a Pattern: ABC
48. Spin a Pattern: Mixed Practice
49. Let's Tell Time: Time to the Hour
50. Let's Tell Time: Time to the Half Hour
Report this resource to TPT