Kindergarten Core Subjects BEST Standards "I Can" Student Checklists Florida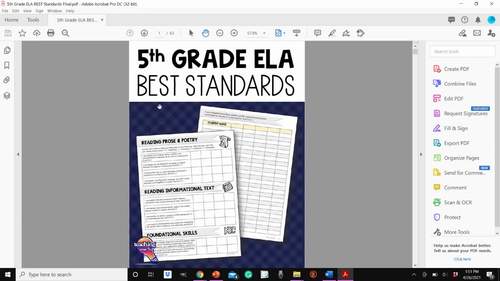 ;
Also included in
Kindergarten Florida BEST Standards "I Can" Posters & Student Checklists Bundle: Math, ELA, Social Studies, Science BundleThis is a complete set of "I Can" posters and checklists for language arts, math, science, and social studies. The standards are rewritten in student-friendly "I Can" stateme

Price $25.60

Original Price $32.00

Save $6.40
Description
Florida BEST Standards "I Can" Student Checklists
for Kindergarten ELA, Math, Science, & Social Studies
The I Can Checklists include pages set up to show all the standards and single-standard pages. They are included in both PDF format and Google Slides®. The ELA checklists also include the suggested book lists from the state, with the reading level and genres added to the titles.
The PDF checklists have textboxes, so teachers can type directly in the file. The single-standard pages are set up to autofill the student names on all the pages at once.
The Google Slides® versions do have textboxes, but they are not autofill. Just type the student names on the first page, then copy and paste them on the others.
These handy checklists can be used in multiple ways:
Students can take ownership of their own learning and track their progress.
Teachers can mark down when they have taught each standard, easily seeing what still needs to be taught or spiraled.
Teachers can use the single-standard pages to see their students' progress in one place. Use these checklists to quickly create small groups based on ability.
The pages have four columns for each standard. In these columns, students put the date and their assessment of where they are for each standard. (1 = Beginning, 2 = Emerging, 3 = Proficient, 4 = Advanced) You can have students revisit the standards so they can reassess their progress.
These checklists coordinate with the "I Can" Posters Kindergarten BEST Math, ELA & Core Classes Florida Standards.
Save $$$ with a Bundle
The posters and checklists are also available in a money-saving bundle.
*****************************************************************************
Customer Tips:
How to get TPT credit to use on future purchases:
• Please go to your My Purchases page (you may need to login). Beside each purchase you'll see a Provide Feedback button. Simply click it and you will be taken to a page where you can give a quick rating and leave a short comment for the product. Each time you give feedback, TPT gives you feedback credits that you use to lower the cost of your future purchases. I value your feedback greatly as it helps me determine which products are most valuable for your classroom so I can create more for you. ☺
Be the first to know about my new discounts, freebies and product launches:
• Look for the green star next to my store logo and click it to become a follower. Voila! You will now receive email updates about this store. ☺
*****************************************************************************
Report this resource to TPT