Kindergarten Graduation Program MEGA Bundle End of the Year Celebration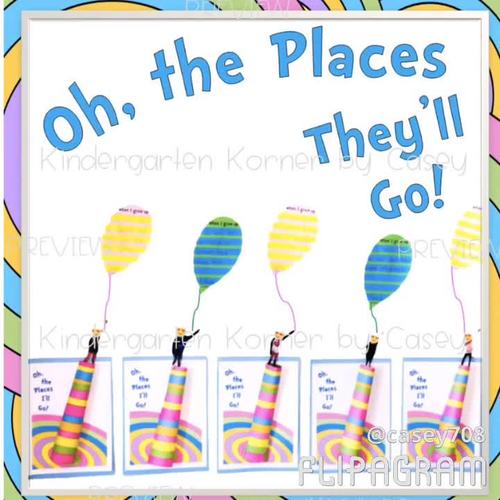 ;
Description
This Graduation MEGA Bundle includes all you need for your Pre-K or Kindergarten End of the Year Ceremony with an Oh, the Places They'll Go theme! This zip file includes a bulletin board craft, differentiated balloon writing templates, medium and large display letters, pastel pennant banner letters, editable invitations, editable program, editable diplomas, and my personal graduation script with teacher tips, poems, songs, and more!
Please note that this bundle was originally designed for ceremonies taking place in the schools. However, you may easily adapt portions (but perhaps not all) of this bundle for a virtual or online celebration due to COVID-19. I have also adjusted my Terms of Use. The parts that you don't use this year, you can simply save for next year! I have received many wonderful reviews from teachers who have invested in this bundle and use it year after year.
Click the PREVIEW button to see all that you are getting with this product!
Please read the entire description before purchasing. Please note that three of the files include EDITABLE options (invitations, program, and diplomas) where you can add details to personalize the pages. All other graphics on these pages are secured and cannot be deleted or resold. The other files in this product are non-editable in order to protect my copyright. Adobe Reader is needed to view the non-editable secured PDF files. PowerPoint or Google Slides is needed to view and personalize the editable portions of the product.
PLEASE NOTE: I cannot customize diplomas, invitations, or programs after you purchase. You may add additional text of your own or your students' photos, but I cannot accommodate requests to create custom orders at this time. I am teaching full time in the classroom as well during this hectic school year, so I am unable to fulfill such requests. This bundle is sold as it, but there are plenty of options included for you to choose from!
This MEGA Graduation Bundle includes all of the following:
OH, THE PLACES THEY'LL GO BULLETIN BOARD BUNDLE
This Dr. Seuss Inspired Oh, the Places They'll Go! Bulletin Board BUNDLE includes 27 differentiated balloon writing templates, craft templates, bulletin board letters, and decor to create a Graduation display to remember! Both primary and regular lined templates are included. Choose from 2 display options - (3-D or pastel), or CREATE BOTH at different times throughout the year like I do!
PASTEL BANNER FLAG PENNANT STYLE LETTERS
Use these banner flag pennant style to create any saying you wish such as Class of
2018 or Class of followed by the year your students will graduate high school. Each pennant is 5x7 inches and prints one to a page - Save ink and print only those that you need.
GRADUATION SCRIPT
This file includes my personal 18 page graduation script filled with teacher tips, ideas, teacher's scripted lines, poems, songs, and more. This is a non-editable file.
EDITABLE INVITATIONS
Choose from Full Page or Half Page. - Print, Post, or email!
My graphics are secured and may not be deleted.
You may personalize by add wording or graphics of your choosing!
EDITABLE GRADUATION PROGRAM / PAMPHLET
Choose which option you like for the front and back covers. Click the boxes to personalize. My graphics are secured and may not be deleted. Wording and graphics may be added. The entire program inside is FULLY EDITABLE for you to customize as you wish.
EDITABLE DIPLOMAS
Choose from 9 options including templates for preschool, kindergarten, and general diplomas. Select which diploma option you like, and click the boxes to customize. As with the previous two editable options, my graphics are secured in place and may not be deleted. You may Insert text boxes to add text anywhere you like. You may also add graphics such as your school's logo or even a picture of each graduate on the side.
Use this product year after year! Many of the elements included in this bundle may also be used at other times of the year as well . For example, the balloon writing templates include a goal setting prompt that I use at the beginning of the year. The banner pennant letters can also be used at any time of year to create a message of your choice.
Special Digital Terms of Use in light of COVID-19: Please read before purchasing.
Thank you so much for your support and interest in Kindergarten Korner by Casey. Creating quality resources for teachers is truly my passion, and seeing my resources in action all over the world is truly the best feeling! Please take a moment to read my Updated Terms of Use.
This download is intended for use in one classroom only, unless additional licenses are purchased. It may be used for distance learning purposes by the purchaser only. It may be printed by the teacher for use in class or sent home as a paper packet for homework or distance learning. Parents or homeschooling families may purchase for teaching children at home.
In light of COVID-19 causing school closures, you may now upload this to a PRIVATE password protected online platform such as Google Classroom, SeeSaw, etc. for your parents and students to use only. You must give credit to Kindergarten Korner by Casey on your site, and state that parents should not email, post, or share this file. You may not remove copyright info. You may NOT upload this file you YouTube or your YouTube channel. The file may not be edited.
No commercial use or sharing of this product through public Internet Groups or Blogs, School District Websites, School Websites, Personal Websites, or Offline Groups is permitted. 
This item is also bound by the Digital Media Copyright Law and redistributing, editing, selling, and/or posting this item on the Internet are strictly prohibited and illegal. I truly appreciate you respecting my work, and I kindly ask that you share the link to my product with your teammates and not the file. Please understand that I love providing quality resources to teachers and families, yet this is how I provide for my family. Illegal file sharing hurts all sellers who create in this amazing TPT Community. Keep in mind when someone may ask you to "share" a file, it is only "sharing" if you are the creator.
Feedback is not required but is so very much appreciated! In taking some time to rate this product, you earn TPT credits toward future purchases. Consider becoming a follower on my TPT store and my website so that you will receive notifications of new product releases, flash freebies, and sales.
See product download for clip art and font credits.
This Oh, the Places They'll Go Themed Graduation Program has been designed with companion activities to use with the Dr. Seuss original story, Oh, the Places You'll Go! These activities should be done after purchasing and reading the book. Images in this file do not infringe on the original imagery of Dr. Seuss and do not contain any illustrations by Dr. Seuss. This file is an independent product and is not affiliated with, nor has it been authorized, sponsored, or otherwise approved by Dr. Seuss Enterprises.
Concentric circle pastel background was computer designed by Kindergarten Korner by Casey. The pastel background and banner should not be resold or used in any other paid or free products on TPT or any other sites.
Graduation Clip Art is by Whimsy Clips on TPT!
Thank you for looking, and I wish you the very best of luck with your graduation!
If you have any questions, I'm happy to help! Send me a message on TPT, and I will do my best to get back to you within a day.
TAG ME on INSTAGRAM @kindergartenkornerbycasey with any pics of my products in action. Each tag enters you for a chance to win free products.
Visit my blog kindergartenkorner.com for more ideas!
~Casey
Report this resource to TPT