Kindergarten Illustration Unit | I Can Draw With Shapes | Draw and Color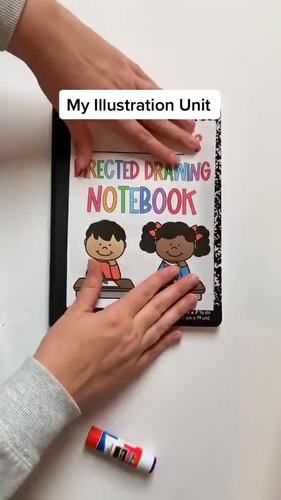 ;
Also included in
This is a complete Kindergarten Writing Units GROWING BUNDLE. The units follow a workshop approach while focusing on taking writing slowly by building the foundational skills of illustrations. What's included:Illustration Unit: writers become confident in their drawing and coloring skills. Kindergar

Price $40.00

Original Price $70.00

Save $30.00
Description
This is a four week illustration unit to help kindergarten/first grade writers become confident in their drawing and coloring skills. Primary students will learn how to draw with shapes and people with different facial expressions, hairstyles, and skin tones.
This illustration study sets kindergarten students up for success for the rest of the year during writers workshop. Students can reference their directed drawing notebook throughout the year if they forget how to draw an object already taught.
What's included:
4 weeks of lesson plans
Outline of unit teaching points
Self portrait to practice different hairstyles, facial expression, and skin tones
24 easy directed drawings using ONLY SHAPES: girl, boy, house, school, park, car, bus, boat, truck, playground, firetruck, ice cream, bicycle, flower, dog, cat, pig, horse, fish, shark, dinosaur, lion, tiger, giraffe
Two options of directed drawing formats: full page directed drawing and directed drawing with space at bottom to draw the picture
Various rubric options
Parent letters (pre and post unit)
Coloring Checklist
6 Anchor Chart options: hairstyle/faces, I can build a person, I can draw with shapes, I can draw warm clothes, I can draw cold clothes, I can draw accessories (digital versions added Feb 2022)
Directed drawing labels for compositional notebook
How to Use:
Refer to daily lesson plans which contains materials and mentor texts that you will need.
WANT TO SAVE MONEY AND GET AN ENTIRE YEAR OF KINDERGARTEN WRITING UNITS? Kindergarten Writing Units Growing BUNDLE
No idea what to do next? Here is my Kindergarten Labeling Unit
WANT ADDITIONAL DIRECTED DRAWINGS WITH SHAPES ONLY?
Products You May Like:
Information for You:
Each time you give feedback, TpT gives you feedback credits that you use to lower the cost of your future purchases.
Please go to your My Purchases page. Next to each purchase, you'll see a Provide Feedback button. Click it and you will be taken to a page where you can give a rating and leave a comment about the product. Each time you give feedback, TPT gives you feedback credits that you can use to lower the cost of your future purchases. Your feedback is helpful on what resources to continue to make!
Click the green star next to my store logo and click it to become a follower. You will receive email updates about this store.
Follow me on Instagram! Each product is 50% off for the first 24 hours they are uploaded.
illustration unit | drawing | directed drawing | how to draw with shapes | i can draw with shapes | kindergarten | writing | writers workshop | coloring | thatkindermama | kindergarten writing units | drawing with shapes | writing | illustration study | homeschool | homeschool curriculum
Teaching Duration
1 month
Report this resource to TPT