Kindergarten Math Boom Cards Mega Bundle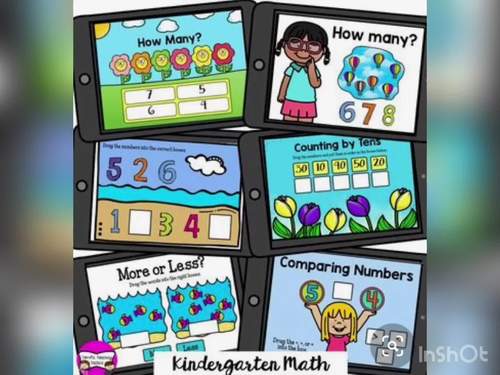 ;
Compatible with Digital Devices
The Teacher-Author has indicated that this resource can be used for device-based learning.
What educators are saying
I love assigning boom card activities for homework because they are interactive and self-correcting. They give immediate feedback.
My students love using these at the smartboard as a center during math. I love that no adds pop up from a website and that they are engaging and completely focused! LOVE IT!
Products in this Bundle (21)
showing 1-5 of 21 products
Description
These math boom cards are ideal for digital math centers. This bundle features 21 boom card decks. They are fun, engaging, interactive, and self-checking kindergarten math games!
Are you tired of searching for different boom decks every time you want to teach a new concept? Are you looking for Math for the whole year all in one place?
Look no further! This is what you need. This is what your students will LOVE!
Every standard is covered and your students will become Math experts with these 502 cards! Counting, addition, subtraction, measurement, data, and geometry COVERED!
Do you want two reasons to get this bundle?
1.) FOR YOU - You've just saved yourself hours of time searching for resources/planning.
2.) FOR YOUR STUDENTS - They will have so much fun. So. Much. Fun.
Check out my instagram - @terrificteachingtactics. I have lots of posts and stories that show each deck in action.
These are not printable resources. This download will give you PDFs that will link you to the Boom Cards on the Boom Learning website.
Try the decks by checking out the previews. Visit the smaller bundles (linked below) and check the descriptions. There will links to the boom website where you can play the first 4 cards of each deck:
How to Download Boom Cards on Teachers Pay Teachers
It comes with a PDF of Boom Card FAQs.
Boom cards are self grading exercises on the Boom Learning website. Students are assessed on their knowledge in a fun and engaging way (Boom Cards are like a game). They are interactive and students click, drag, drop, or type in order to show the answer. These Boom Cards are an awesome way to assess your student's Math fluency. They can be fun and engaging Math Centers which you can use with your classroom technology, such as iPads, computers, and interactive whiteboards. Best of all? There is NO printing, cutting, or laminating!
"With your Teachers Pay Teachers download, users new to Boom Learning get a 90 day free trial of student progress reporting for up to 150 students. Your trial includes the ability to make up to 5 free DIY decks. You may upgrade or cancel at any time. Boom Cards play on modern browsers (released in the last three years) on interactive whiteboards, computers and tablets. Boom Cards apps are also available. Not sure if your browser is modern enough? Try a free Boom Cards deck first. When you redeem your purchase, Boom Learning opens an account for you if you do not already have one. If you do not subscribe at the end of your trial, you will be able to continue using Boom Cards with the Fast Play feature. Fast Play does not track individual progress. If you do not subscribe we will delete your student records 3 months after the expiration of the trial to protect student privacy."
Enjoy this resource! Don't forget to follow my store for more awesome products and rate this product for your TPT credits :)
Phonics Sentence Building Boom Cards Big Bundle
Report this resource to TPT
Standards
to see state-specific standards (only available in the US).
Count to 100 by ones and by tens.
Count forward beginning from a given number within the known sequence (instead of having to begin at 1).
Write numbers from 0 to 20. Represent a number of objects with a written numeral 0-20 (with 0 representing a count of no objects).
Understand the relationship between numbers and quantities; connect counting to cardinality.
When counting objects, say the number names in the standard order, pairing each object with one and only one number name and each number name with one and only one object.