Kindergarten Math Centers: 20 Centers & Visual Directions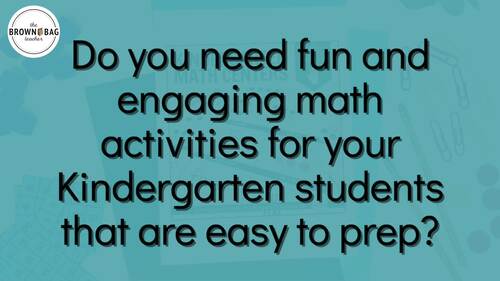 ;
What educators are saying
When I was in first, I bought the first grade version. When I move to Kinder, this was my very first purchase! These are so great!
I actually purchased this resource to use at the beginning of first grade as a review of learned skills, and it was absolutely perfect!
Description
Math Centers offer students hands-on, spiral review practice with skills that have been introduced and taught during our Guided Math groups. Additionally, working with a partner, centers allow students the opportunity to talk about their math thinking, apply math vocabulary, and hear how other people think about math. Additionally, when students visit math centers, I have the opportunity to meet with our Guided Math groups for intentional instruction. Plus, math centers are FUN! 
In this resource you will find 20 challenging, ready-to-print math centers, coordinating labels, and visual directions for your math-center bins.
Number Sense
Find It: Subitizing Dot Patterns & Number Words
Subitizing Go Fish
Subitizing Memory
Grab & Spill
Show Me the Number
Adding & Subtracting
Shake & Spill
Making 5/10 Go Fish
Domino Number Line
Domino Sum Sorts (8 sorts, numbers 4-11)
Adding & Subtracting Dominoes
Roll & Solve (Addition & Subtraction)
Spin & Solve (Addition & Subtraction)
What is It Worth?
Connect 4 to Make ___
*Numbers to 100
Race to 50/100/120
50s/100s/120s Chart Puzzles
*Geometry & Measurement
Measure This!
Going on a Shape Hunt (2D & 3D)
Find It: 4 in a Row Shapes
Count & Graph
*Bonus Resources
Math Tub Labels
Spinners
Ten Frame Dice
Ten Frame Mats
To ensure that all my learners are challenged, many of the centers have differentiated recording logs. Please choose the logs that work best for your students. When I use leveled materials I (a) print them on white paper and place them into color-coordinated folders – green (approaching grade-level), yellow (grade-level), and blue (above grade-level) (b) print on color-cardstock (c) level the manipulative students are using. Before setting out a center, make sure to check that you have the dice (6, 8, and 12 sided), as well as, dominoes (double 6s, 9s, and 12s) so all of your students have the just-right challenge.
Happy Teaching,
Catherine
Report this resource to TPT