Kindergarten Math Centers YEARLONG BUNDLE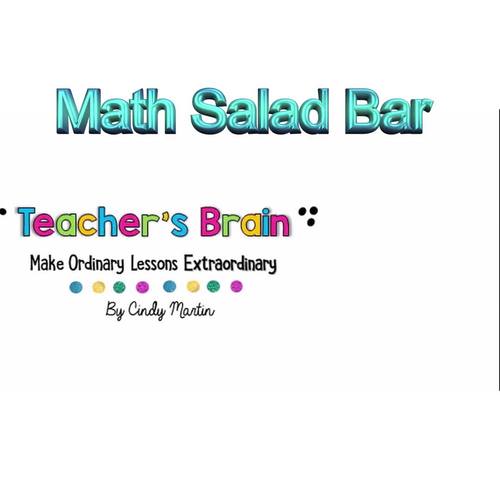 ;
Products in this Bundle (16)
showing 1-5 of 16 products
Also included in
EVERYTHING you need to teach KINDERGARTEN all YEAR! Are you looking for engaging activities for EVERY subject area in Kindergarten? I have you covered with this HUGE Endless Curriculum Bundle of Bundles with a MASSIVE AMOUNT of materials made with KINDERGARTEN in mind! *Assessments IncludedYEAR-LON

Price $153.20

Original Price $382.99

Save $229.79
Description
Looking for some new kindergarten math centers for the entire year that will keep your students engaged in learning and hits ALL the standards? I have you covered with these MATH "Salad Bar" or "Cafe" Centers. Students love it and YOU WILL TOO! Each center comes with a recipe card (task card) to help students identify materials participate in the activity. Students have a blast learning concepts while you facilitate their learning or are freed up to work one-on-one with students who need extra help.
This is a YEARLONG BUNDLE. I have bundled all the math centers now due to requests.
⭐ Encourage Critical Thinking Skills
Click HERE for the YOUTUBE VIDEO Tutorial of how to set up your manipulatives.
What is in this bundle now?
Unit 1 Kindergarten Math Centers Numbers 1-5
Unit 2 Kindergarten Math Centers Numbers 1-10
Unit 3 Kindergarten Math Centers Sorting and Classifying
Unit 4 Kindergarten Math Centers Addition within 5
Unit 5 Kindergarten Math Centers Counting Sets to 20
Unit 6 Kindergarten Math Centers Measurement and Data
Unit 7 Kindergarten Math Centers WORD PROBLEMS
Unit 8 Kindergarten Math Centers GRAPHS and DATA
Unit 9 Kindergarten Math Centers 2D and 3D Shapes | Geometry
Unit 10 Place Value 11-19 Teen Numbers
Unit 11 Kindergarten Math Centers COMPARING NUMBERS
Unit 12 Kindergarten Math Centers Addition to 10
Unit 13 Kindergarten Math Centers SUBTRACTION to 10
Unit 14 Telling Time and Money Kindergarten Math Centers
Assessments Included
Posters Included
Photos of Activities in ACTION
Links
Suggested Instructional Block Time
Material Lists Needs for Each Unit
Crafts
Enrichment Activities
What is a Math Café?
I like to keep all of my math manipulatives in one place, and hold students responsible for cleaning up after their activity. You can make your Math Café (or Buffet or Salad Bar) out of a bookcase or a rolling cart. A student pulls out the manipulative cart (Café). Students choose a recipe card (task card - with the material list, number of people who can participate in the math activity, picture cues, and directions), choose their partners if required, fill their tray with materials, do the activity anywhere in the room, and easily clean up by using a tray to hold their materials. You float around and take notes. One task card is labeled "Teacher's Group." This can be used when you see a student needs extra help with a concept. They will sit with you to review the concept, if you give them the card. There are also ipad, computer and blank recipe cards.
Copyright © 2019 Cindy Martin (Teacher's Brain)
All rights reserved by author.
How to get TPT credit to use on future purchases:
• Please go to your My Purchases page (you may need to login). Beside each purchase you'll see a Provide Feedback button. Simply click it and you will be taken to a page where you can give a quick rating and leave a short comment for the product. Each time you give feedback, TPT gives you feedback credits that you use to lower the cost of your future purchases. I value your feedback greatly as it helps me determine which products are most valuable for your classroom so I can create more for you. ☺
Be the first to know about my new discounts, freebies and product launches:
• Look for the green star next to my store logo and click it to become a follower. Voila! You will now receive email updates about this store.
☺ First 24 HOURS of new products over $1 are ½ off!
➤Follow my Teacher's Brain BLOG
Report this resource to TPT
Standards
to see state-specific standards (only available in the US).
Count to 100 by ones and by tens.
Count forward beginning from a given number within the known sequence (instead of having to begin at 1).
Write numbers from 0 to 20. Represent a number of objects with a written numeral 0-20 (with 0 representing a count of no objects).
Understand the relationship between numbers and quantities; connect counting to cardinality.
When counting objects, say the number names in the standard order, pairing each object with one and only one number name and each number name with one and only one object.