Kindergarten Math Games and Centers Google Classroom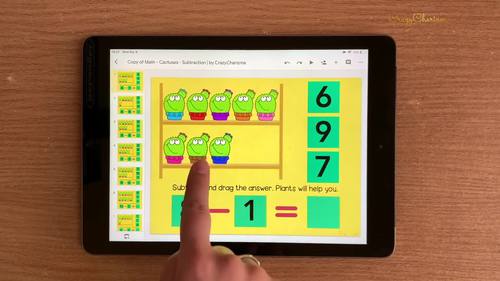 ;
Zip

Google Apps™
Includes Google Apps™
This bundle contains one or more resources with Google apps (e.g. docs, slides, etc.).
Products in this Bundle (21)
showing 1-5 of 21 products
Description
Need engaging math games for kids? Save your time and prep - get interactive centers to practice kindergarten math. Perfect to use for centers, assessment, independent practice, early finishers, homework, group work, review, during distance learning, or hybrid.
***By purchasing this bundle you are saving 30% off the price of individual products.***
WHAT TEACHERS ARE SAYING* ABOUT THIS BUNDLE?
"Thank you for creating such a great product to practice the standard. My students are enjoying it!"
"After the success with your addition product, I had to purchase the subtraction one. My students really enjoy working with it."
"Students really enjoyed this resource and the graphics. Works great for distance learning on Google Classroom."
"The class loved being able to move the box to complete the problem. They also liked the pictures."
"I divided this into three days' worth of practice. It was easy for my kids to figure out, and worthwhile for them to do!"

*Taken from individual sets included in this bundle.
---------------------------------------------------------------------------------------
WANT TO TRY? Download FREE MATH GAMES.
---------------------------------------------------------------------------------------

Depending on the level, you can also use this bundle with students in first and second grade.
WHAT SETS WILL YOU GET?
What exactly does the bundle contain?
✔ Teacher Notes pdfs (with the links and directions to access Google Slides)
✔ 897 interactive slides with moveable pieces
Please note that all the slides work and can be used interactively ONLY IN EDIT MODE!
You can use these paperless activities for:
morning work
centers
assessment
homework
early finishers
independent practice
smartboard activities
PowerPoint activities (just save the original file in Google Slides as PPT and use in edit mode on any device so that moveable pieces would work here as well)
virtual lesson follow-up
asynchronous learning, etc.
Download the preview and see answers to FAQ. Watch the preview video to see all the packets in action.
YOU MAY ALSO LIKE
LET'S CONNECT
✔ Get access to FREE resource library
DISCLAIMER: These materials were prepared by CrazyCharizma and have neither been developed, reviewed, nor endorsed by Google. Google and the Google Logo are registered trademarks of Google Inc.
Victoria @CrazyCharizma
P.S.
Don't forget to leave feedback and earn TPT credits.
Want your friend or the whole team to have and use this product|? Please buy a multiple license to share it with them. For school and school districts, buy this packet via TPT for schools.
Have questions? Feel free to email me or use the "Ask a Question" feature on TpT.
Report this resource to TPT
Standards
to see state-specific standards (only available in the US).
Count to 100 by ones and by tens.
Compare two numbers between 1 and 10 presented as written numerals.
Tell and write time in hours and half-hours using analog and digital clocks.
Represent addition and subtraction with objects, fingers, mental images, drawings, sounds (e.g., claps), acting out situations, verbal explanations, expressions, or equations.
Solve addition and subtraction word problems, and add and subtract within 10, e.g., by using objects or drawings to represent the problem.