Kindergarten Math and Literacy Centers NO HOLIDAYS Hands-On and Digital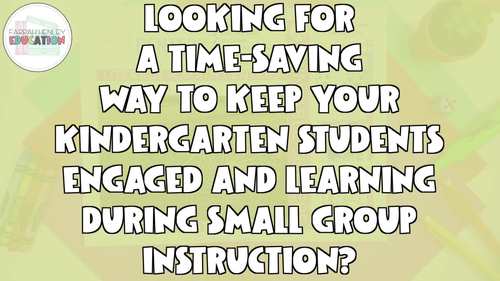 ;
PDF

Google Apps™
120 Math Centers/120 Literacy Centers
Includes Google Apps™
The Teacher-Author indicated this resource includes assets from Google Workspace (e.g. docs, slides, etc.).
Description
Are you exhausted from spending countless hours searching for high-quality, easy-to-use math and literacy centers for your kindergarten classroom? Do you struggle to find engaging activities that build essential skills while also being low-prep and comprehensive? Look no further than these year-long Learning Centers Made Easy™ center activities.
This bundle is specifically designed to solve the problem of finding effective and engaging activities for your young learners. Kindergarten teachers have limited time and resources, so this collection includes monthly math centers, and literacy stations focused on building important skills like reading comprehension, phonics, number sense, addition, and so much more!
These centers are perfect for small group reading and math activities, and they are easy to prep and set up, making them perfect for any time of the year. Each center is unique, ensuring that your students stay engaged and interested throughout the year. From subtraction centers to phonics literacy centers, our activities are designed to build math and literacy concepts in a fun and interactive way. 
⭐ What's Included
240 Printable Center Activities
240 Digital Center Activities - 3 Platforms (Google Slides™, Seesaw™, and Boom Cards™)
Predictable Center Styles- so students can be successful throughout the year
Bright Colorful Graphics - B&W printable version included
Movable Pieces for Drag and Drop Activities
Digital and Printable Exit Sheets - for student accountability
Printable Answer Keys- for easy grading or sub tubs
CCSS and TEKS Aligned- with a table of contents printed on each center cover
NO Holidays! These centers can be used year-round!
With 240 engaging, predictable, hands-on printable or digital activities, you will cut down on off-task students, interruptions at your teacher table, and you'll be able to save time planning and prepping for your centers. Take the headache from planning and prepping for centers with our Learning Centers Made Easy™ hands-on and digital activities!
ABC ORDER (lowercase)
ABC Order (uppercase)
Uppercase/Lowercase Matching
Rhyming Words
Beginning Sounds
Letters vs. Words
Build and Write Sentences
Counting Words in a Sentence
Building Words
Sentence Fragment Picture Matching
Counting 1-20
Numbers 0-20 Represent Objects
Adding One More
Counting Objects
Classifying Objects
Positional Words
2D Shapes
One More - Counting On
Sorting Objects
"How Many" question - 10 Scattered Objects
ABC Order (Lowercase)
ABC Order (Uppercase)
Match Lowercase/Uppercase
CVC (-ad, -at, -ag)
CVC (-ad, -am, -an)
Add/Subtract Sounds to Make New Words
High-Frequency Sight Words
Using Nouns
Using Verbs
Capitalizing (Beginning of Sentence and I)
Counting (1-30)
Counting One More
Counting "How Many"
Sorting Objects
Classifying Objects
2D Shapes
Counting On
Counting Forward
Positional Words
Attributes of Objects
Short Vowels
Phoneme Blends
Phoneme Segmentations
CVC Words Short e
CVC Words
Onset/Rime
High-Frequency Sight Words
Syllables
One to One Correspondence
Making Predictions
Numbers 1-50
Make Numbers 11-19
Count by 10's and 100's
Numbers 1-100
Counting Objects 1-20
Greater Than/Less Than
Groups of Objects
Identify Shapes
Measure with Objects
Recognize Patterns
Concepts of Print
Phoneme Blends
Phoneme Replacement
CVC Words
CVC Words
Onset and Rime
Phoneme Segmentation
Writing
On-to-One Correspondence
High-Frequency Sight Words
Count to 75
Number Words
Numerical Symbols
Count 1-100
Five and Ten Frames
Classify Objects
Make Greater/Less Groups
Additions
Subtraction
Patterns
Predicting
Writing
Opposites
CVC Words
CVC Sound Out/Spell
Nouns V.S. Verbs
"oo" Sounds
sh/th Sounds
One-to-One Correspondence
High-Frequency Words
1-100
Ten Frames
Ways to Make a Number
Before and After
Positional Words
Greater Than/Less Than
2D and 3D shapes
Addition
Subtraction
Patterns
Problem and Solution
Rhyming Words
Upper/LowerCase Match
CVC Words
CVC Words
Prepositions
Writing
Phoneme Segmentation
Match the Sentence to the Picture
High-Frequency Words
Count 1-100
Which Sign? + or -
Shape Attributes
Sorting Attributes
Before and After
Subtraction Single Digit Word Problems
Numbers 11-19
Mixed Addition and Subtraction
Measure
Patterns
Ask/Answer Questions
Context Clues
Onsets/Rhymes
R-Controlled Vowels - ar
R-Controlled Vowels - or
Opinion Texts
End Punctuation
Main Idea/Details
Cover/Pages of a Book
High-Frequency Words
Counting 1-100
Greater Than. Less Than. Equal To
Decompose Numbers
Making a 10
Compare Objects
Shapes
# of Objects
Addition
Compare Numbers
Relationship between #'s and quantities
Compound Words
Context Clues
Author-Illustrator
R-Controlled - er
R-Controlled - ir
R-Controlled - ur
Story Elements
Narrative Writing
Collaborative Conversations
High-Frequency Words
Count Objects
Count Forward from a Given Number
Decompose Numbers Less Than or Equal to 10
2D/3D Shapes
Analyze and Compare Shapes
Classify Objects
Compare Two Numbers
Mixed Addition/Subtraction
Compare Objects with Measurable Attributes
Number of Objects
Ask and Answer Questions
Illustrations
Question Words
ing/ink
Capitalize
Rules for Discussion
Opinion Writing
Writing
Two Texts
High-Frequency Words
Counting Objects
Count Forward from a Given Number
Modeling Shapes
2D/3D Shapes
Real World Shapes
Count to Answer How Many
Patterns
Mixed Addition/Subtraction
Which Sign?
< > with Objects
Unknown Words
Retell Stories
Plural Nouns
Y as a Vowel
Long Vowel A
Long Vowel E
Informational Writing
End Punctuation
Two Characters
High-Frequency Words
Count to 100
Number Names
Simple Shapes
Name Shapes
Measurable Attributes
Numbers
Classify Objects
Addition and Subtraction
Greater Than, Less Than (Groups)
Greater Than, Less Than (Numbers)
Finding Information
Rhyming Words
Main Ideas and Details
Syllables
Glean and Use Information
Prepositions
Narrative
Procedural Texts
Nouns Singular/Plural
High-Frequency Words
Count to 100
Subtraction
Addition
Ordering Numbers
Sort Objects
Make Graphs
Classify Objects
Mixed Addition/Subtraction
Numbers
Greater Than, Less Than, Equal To
ABC Order - Lowercase
ABC Order - Uppercase
Short Vowels
Long Vowels
R-Controlled Vowels
CVC Words
Opinion Writing
Capital Letters/Punctuation
Asking Questions
High-Frequency Words
Count to 100
Subtraction
Addition
2D Shapes
3D Shapes
Graphing
Comparing Objects
Addition and Subtraction
Patterns
Comparing Numbers
These Kindergarten Math and Literacy Centers are the perfect solution for any kindergarten teacher looking to make the most of their classroom centers. With our year-long activity bundle, you'll have everything you need to create a comprehensive and effective center program for your students. Try them today and start building essential skills in a fun and engaging way!
⭐ PERFECT FOR:
Math or Literacy Center Rotations
Small Group Instruction (teaching concepts or introducing skills)
Intervention
Independent Review
Partner Review
Whole Class Review (project on your smart board using the digital versions)
TEACHERS LIKE YOU SAID…
⭐️⭐️⭐️⭐️⭐️"I love that there is such a variety of centers to meet the needs of all my students and it is flexible for both in person and virtual learning"  
⭐️⭐️⭐️⭐️⭐️ "Love this. It is a great supplement to what we are working on in class. and I love the option to choose if my kiddos are on the computer or doing physical activities."
⭐️⭐️⭐️⭐️⭐️"Thank you for making math & literacy stations with no holidays! I was struggling to find something I could use year round because I would find a skill my kids needed to work on but the holiday pic on the cards was not appropriate for that time. You have made my teacher heart happy! Great resource!"
➡️This resource is VOLUME 2 and DOES NOT include holiday-themed clipart. If you would like centers with holidays, we have created a VOLUME 1 just for you...complete with totally unique center activities (not just these centers with clipart switched out).
CLICK HERE FOR VOLUME 1 - INCLUDES HOLIDAY Printable & Digital Centers
This bundle is the TOP BUNDLE of all Kindergarten Volume 2 Printable and Digital Centers and the BEST DEAL! We have the individual pieces included in this bundle available to purchase separately if you desire…but this is the best deal!
_______________________________________
MORE RESOURCES TO LOVE:
❤️ Kindergarten Centers Math and Literacy | Year Long Bundle | Volume One
❤️ Kindergarten & First Grade Phonics Game | BUMP Phonics Game
_______________________________________
BOOM CARDS: 
This resource is not BOOM only...there are other formats included.
To use Boom Cards, you must be connected to the Internet. Boom Cards play on modern browsers (Chrome, Safari, Firefox, and Edge). Apps are available for Android, iPads, iPhones, and Kindle Fires. For security and privacy, adults must have a Boom Learning account to use and assign Boom Cards. You will be able to assign the Boom Cards you are buying with "Fast Pins," (play provides instant feedback for self-grading Boom Cards). Fast Play is always a FREE way for students to engage with Boom Cards decks. For additional assignment options, you'll need a premium account. If you are new to Boom Learning, you will be offered a free trial of our premium account. Read here for details: http://bit.ly/BoomTrial.
_______________________________________
FREQUENTLY ASKED QUESTIONS
What is the difference between Volume 1 and Volume 2?
Volume 1 and Volume 2 are completely different center activities. Volume 1 includes holiday clipart in months like October, November, December, February, March, April, and July.
Are the centers in Volume 1 and Volume 2 different activities, or the same activities with the clipart just switched out?
This is a great question! When we built Volume 2 of our popular centers, we didn't want to just switch out the clip art and have you purchase the same centers twice. Many teachers buy both volumes to double the number of centers they have for their classrooms for this reason. Rest assured that Volume 1 and Volume 2 do not contain the same center activities.
Can these centers be used independently by my students?
We pride ourselves on building our center activities following our Easy Centers Framework™, which includes having activities that are predictable and familiar to students. We use a bank of different styles of activities throughout the month (choosing the best one we feel is appropriate for the skill) so that your students become familiar with the activities and have fewer (and some teachers report NONE) questions each time you switch out centers.
Can these activities be used in a digital or virtual classroom?
This particular unit includes printable and digital and can be used on Google Classroom™, Seesaw™, Microsoft Teams™, Canvas™, and Schoology™. (We only provide support for Google Classroom and Seesaw as we have not taught using the other platforms. However, there are many Youtube videos available on how to use Google Slides™ inside the other platforms.
Can I use these activities in my online classrooms as teaching material? (Outschool, Online ESL)
YES! We love online teachers and we authorize our resources to be used BY THE TEACHER during lessons. We don't allow them to be sent to parents to be used outside the online classroom.
_______________________________________
Please to receive EXCLUSIVE notes to followers that will include EXCLUSIVE freebies and additional special deals for you!
_______________________________________
CUSTOMER TIPS:
Are you needing this resource for more than one teacher or classroom?
This is a common occurrence among teachers, especially if you are part of a teaching team or grade level team. In order to make it easy, and legal, for you to share with your team, you may purchase additional licenses of this product for 25%-50% off the original price. In order to do this, go to your MY PURCHASES page and simply click BUY ADDITIONAL LICENSES. This is a great way to buy for an entire team or grade level while respecting the copyright licenses of the author. Thank you for being a responsible teacher buyer!
How to get TPT credit for use on future purchases:
Please go to your MY PURCHASES page (you may need to log in). Beside each purchase, you'll see a Provide Feedback button. Simply click it and you will be taken to a page where you can give a quick rating and leave a short comment for the product. Each time you give feedback, TPT gives you feedback credits that you can use to lower the cost of your future purchases. I value your feedback greatly as it helps me determine which products are most valuable for your classroom so I can create more for you!
Be the first to know about my new discounts, freebies, and product launches:
Look for the green star next to my store logo and click it to become a follower. Voila! You will now receive email updates about my store!
Having difficulty with a file?
Visit the FAQs section, submit a help ticket, or ask a question on the Q& A tab before leaving feedback.
_______________________________________
FOLLOW ON
_______________________________________
Copyright © Farrah Henley Education, LLC. All rights reserved by the author. This product is to be used by the original downloader only. Copying for more than one teacher, classroom, department, school, or school system is prohibited. This product may not be distributed or displayed digitally for public view. Failure to comply is a copyright infringement and a violation of the Digital Millennium Copyright Act (DMCA). Clipart and elements found in this PDF are copyrighted and cannot be extracted and used outside of this file without permission or license. Intended for classroom and personal use ONLY.
Total Pages
120 Math Centers/120 Literacy Centers
Report this resource to TPT