Kindergarten Math for the WHOLE YEAR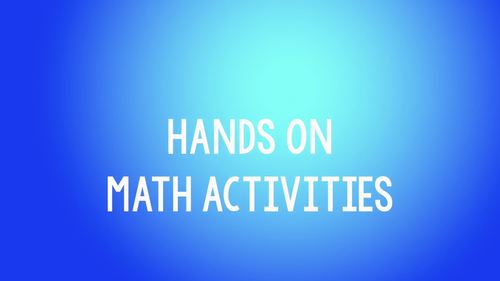 ;
Google Docs™
Includes Google Apps™
This bundle contains one or more resources with Google apps (e.g. docs, slides, etc.).
What educators are saying
This is a great resource. I've been using these games during remote learning with my students as extra math practice. So far, the students have really enjoyed them.
Products in this Bundle (34)
showing 1-5 of 34 products
Description
Find every activity you will ever need for kindergarten math! These products include whole group activities, stations and games, small group activities and games, and intervention materials! Topics cover all of the kindergarten math standards! This bundle includes OVER 30 different math products! All of the products include DIGITAL OPTIONS for Google Slides AND Seesaw!
To read more about how I structure a kindergarten math lesson, check out this blog post!
What Kindergarten Math Topics are Included?
Setting expectations around math tools
Counting
Identifying and Counting Numbers 1-10
Identifying and Counting Teen Numbers
Number Relationships (1 more and 1 less, number order, missing numbers)
Subitizing
Number Decomposition (1-10)
Addition and Subtraction
Solving Word Problems (Numberless Word Problems)
Measurement (non-standard unit measurements)
Geometry (2D and 3D shapes)
Place Value
What Bonus Kindergarten Math Activities are Included?
Fall Math Games and Activities (9 print and 4 digital games)
Halloween Math Activities (4 different games)
Turkey Teens Math Book
Winter Roll and Cover

Follow me on Teachers Pay Teachers to be first to know when I post new products!
⭐️⭐️Did you know that leaving reviews can earn you FREE credits to apply to future Teachers Pay Teachers products?! Click here to get started! ⭐️⭐️
This product is licensed for personal classroom use unless multiple licenses are purchased.
Copyright Kindergarten Cafe
Report this resource to TPT
Standards
to see state-specific standards (only available in the US).
Count to 100 by ones and by tens.
Count forward beginning from a given number within the known sequence (instead of having to begin at 1).
Write numbers from 0 to 20. Represent a number of objects with a written numeral 0-20 (with 0 representing a count of no objects).
Understand the relationship between numbers and quantities; connect counting to cardinality.
When counting objects, say the number names in the standard order, pairing each object with one and only one number name and each number name with one and only one object.