Kindergarten Sight Word Practice Bundle | Sight Word Books and Worksheets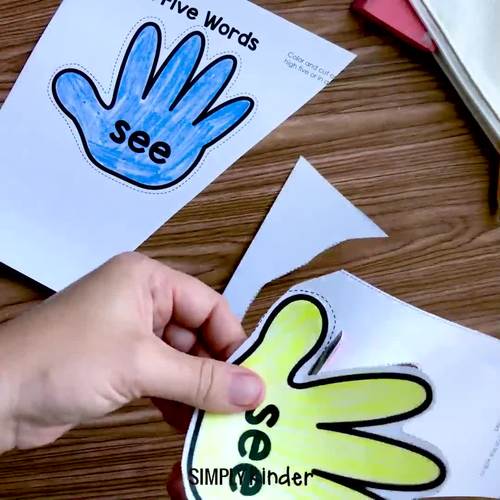 ;
What educators are saying
These activities make learning sight words a lot more fun! My students loved all the crafty type activities and the word searches.
My students loved using this during reading rotations. The activities were easy to prep, kept students engaged, and allowed me to monitor their progress towards new skills.
Description
The ultimate bundle for kindergarten sight word practice books, games, color by code, and more for 200+ high-frequency words!
BEST SELLER on TpT with over 7,000 teacher reviews! Check out this incredible value for everything you need for sight word practice!
Your Sight Word Practice just became so much better with this huge file of printables, activities, centers and so much more. Each sight word included has its own separate file with 67 pages of activities! Perfect for kindergarten, first grade, and beyond.
Included in this download is:
This is a BUNDLE of Sight Word Practice files you and your students will love.
Each word has its own file of 67 pages and would sell for $4 individually (!)
Each sight word has its own file that is 67 pages and includes:
printables (traditional print and go and cut and glue)
cut and glue sentences
dotting activities
word search (words only go up to down and left to right)
word search and find
practice with word on its own and within sentences
high five words (to put on wall, in notebooks, or take home)
sight word fishing center pieces
cut and color words
bubble letter pages to do crafts, rainbow write, or do whatever
sight word readers (predictable) that come in vertical and now horizontal as well as with dots and without.
This is an ENDLESS BUNDLE. Endless meaning that all books that Simply Kinder creates in the future will be added to this bundle.
Words included:   It currently includes 200+ BOOKS
- red, yellow, green, blue, purple, pink, white, black, brown, orange, gray
Number Words - zero, one, two, three, four, five, six, seven, eight, nine, ten
: a, and, away, big, blue, can, come, down, find, for, funny, go, help, here, I, in, is, it, jump, little, look, make, me, my, not, one, play, red, run, said, see, the, three, to, up, we, you
: all, am, are, at, ate, be, black, brown, but, came, did, do, eat, four, get, good, into, like, must, new, no, our, out, please, pretty, ran, ride, saw, say, she, that, this, to, was, what, will, they, there, too, two, under, want, well, went, where, white, who, with, yellow, yes
: after, again, an, any, ask, as, by, could, every, fly, from, give, gong, had, has, her, him, his, how, just, know, let, live, may, of, old, once, open, over, put, round, some, stop, take, thank, them, then, think, walk, were, when
: the, of, and, a, to, in, is, you, that, it, he, was, for, on, are, as, with, him, his, they, I, at, be, this, have, from, one, had, by, but, not, what, all, we, your, can, said, there, an, she, do, how, if, will, up, out, many, so, some, her, make, like, into, has, look, two, go, see, no, my, who, am, now, find, down, did, get, come, their, or, them, time, we, are, when, would, each, use, read, words, day, then, could, these, other, been, long, look, two, go, see, no, my, who, am, now, find, down, did, get, come, their, or, them, time, were, when, would, each, use, read, words, day, then, could, these, other, been, long, made, may, part, which, about, more, write, number, way, people, than, first
: after, an, as, ask, back, ball, boy, because, bring, by, call, cannot, can't, cat, cold, dad, day, does, dog, every, fast, friend, from, fun, girl, give, goes, going, got, had, has, have, he, her, his, home, hot, house, how, if, I'm, isn't, know, let, lets, live, looking, love, man, many, mom, nice, now, off, old, on, only, of, or, over, park, put, read, sat, sit, sleep, so, some, soon, stop, take, their, then, today, very, wash, your, us, use why, water, called, its, America, change, through, large, small, need, air, oil, word, book, books, end, next, favorite
We also provide an EDITABLE WALL CARD template so you can quickly and easily prep the wall cards (if you don't want to print them individually from each file.
These files are stored also stored in Dropbox and Google Drive in the bonus file. We recommend accessing these files this way. (They are stored on my accounts, so you do not need an account to access them).
Teacher Reviews:
⭐️⭐️⭐️⭐️⭐️ "This is such an amazing resource! I love having everything I could need in one place for the sight words instead of having to scramble between a bunch of other resources. Thank you!"
⭐️⭐️⭐️⭐️⭐️ "I absolutely love this resource and use it every week. The printable books are fantastic to send home for the kids to keep and practice with parents or siblings. The "endless" feature is amazing and she does indeed update it. I highly recommend this."
⭐️⭐️⭐️⭐️⭐️ "I can't believe how much is in this resource! I have more than enough to teach full group then use parts of the resource for intervention and independent practice. My students love the consistency of the games (less explaining the directions each time) and the engaging work."
➡️ GRAB OUR NEW SIGHT WORD BY PHONICS SKILL RESOURCE HERE.
Check out these similar resources:
Stay up to date with all things Simply Kinder:
✅ Get our emails with weekly FREEBIES, special offers, & teaching ideas
✅ Follow us on Teachers Pay Teachers

Jennifer Kadar - Simply Kinder - Kindergarten - First Grade - Preschool
© Simply Kinder, LLC
For questions please email hello@SimplyKinder.com.
Answer Key
Does not apply
Report this resource to TPT
Standards
to see state-specific standards (only available in the US).
Demonstrate understanding of spoken words, syllables, and sounds (phonemes).
Know and apply grade-level phonics and word analysis skills in decoding words.
Read common high-frequency words by sight (e.g., the, of, to, you, she, my, is, are, do, does).