Kindergarten Summer Packet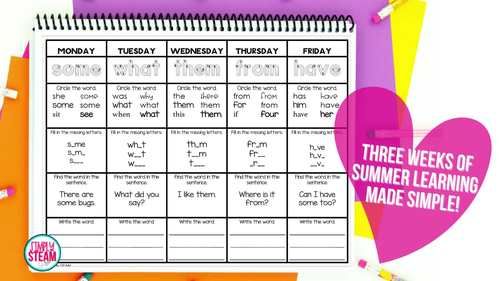 ;
Description
This kindergarten summer packet is helpful for saving you time, ink, and paper! Just print and go with this resource. Your students will only need a pencil to complete these activities.
parent welcome letter
student cover
checklist
15 days of sight word activities
15 days of reading activities
15 days of writing activities
15 days of math activities
15 days of math fact fluency (0 - 5)
15 days of science activities
For each week, you'll only need to print one sheet of paper per subject. Not only will this save your paper and ink, but it'll also save your time and sanity while waiting on your finicky printer.
review
an end of year student gift
getting ready for first grade
quickly reviewing skills
is easy to follow
covers all kindergarten math concepts
reviews the most challenging sight words for kinders
includes reading with comprehension questions
Let's get connected! Click the STAR to receive notifications whenever I post new resources for 50% off AND my monthly newsletters! Get even more tips, FREEBIES, and coaching from Simply STEAM on social media!
Teaching Duration
3 Weeks
Report this resource to TPT
Standards
to see state-specific standards (only available in the US).
Count to 100 by ones and by tens.
Compare two numbers between 1 and 10 presented as written numerals.
Decompose numbers less than or equal to 10 into pairs in more than one way, e.g., by using objects or drawings, and record each decomposition by a drawing or equation (e.g., 5 = 2 + 3 and 5 = 4 + 1).
For any number from 1 to 9, find the number that makes 10 when added to the given number, e.g., by using objects or drawings, and record the answer with a drawing or equation.
Fluently add and subtract within 5.