Kindergarten Weather and Climate Activities - Aligns to NGSS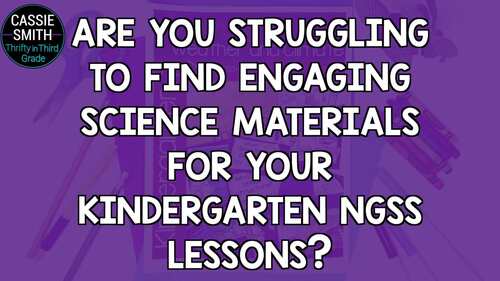 ;
What educators are saying
Very pleased with this resource! Completely addresses the standards with fun and engaging activities.
This is great! I use this with my climate and weather unit and look forward to expanding that unit using these materials!
Description
Are you looking for a fun and interactive way to teach weather to your kindergarten class? This kindergarten unit on weather and climate aligns to NGSS* standards K-PS3-1, K-PS3-2, K-ESS2-1, K-ESS3-2. Your students will love learning about the sun, shade, patterns in weather, and all about meteorologists!
This weather unit covers four topics:
Energy From the Sun
Build a Shade Structure
Patterns in Local Weather
Forecasting and Severe Weather
Included are mini books, hands on science activities, non-fiction mini books, practice pages, interactive notebook pages, and much more! Download the 42 page preview to see what's included in this 200+ page resource!
️❤️ Why Teachers Love This Unit❤️
Engaging activities that students ENJOY
Easy to integrate with other science curricula
Many options to choose from to help you hit the standards
Teaches the standards in a kid-friendly and age-appropriate way
Encourages critical thinking and problem solving
TEACHERS LIKE YOU SAID...
⭐⭐⭐⭐⭐ Very pleased with this resource! Completely addresses the standards with fun and engaging activities.
⭐⭐⭐⭐⭐ THANK YOU so much! This was a great unit and my students loved it as much as I did! Very detailed and great ideas. My students especially loved building the shelter.
*NGSS and Next Generation Science Standards are a registered trademark of Achieve. Neither Achieve nor the lead states and partners that developed the Next Generation Science Standards was involved in the production of, and does not endorse, this product.
©Thrifty in Third Grade
ALL RIGHTS RESERVED
Report this resource to TPT
Standards
to see state-specific standards (only available in the US).
Make observations to determine the effect of sunlight on Earth's surface. Examples of Earth's surface could include sand, soil, rocks, and water. Assessment of temperature is limited to relative measures such as warmer/cooler.
Use and share observations of local weather conditions to describe patterns over time. Examples of qualitative observations could include descriptions of the weather (such as sunny, cloudy, rainy, and warm); examples of quantitative observations could include numbers of sunny, windy, and rainy days in a month. Examples of patterns could include that it is usually cooler in the morning than in the afternoon and the number of sunny days versus cloudy days in different months. Assessment of quantitative observations limited to whole numbers and relative measures such as warmer/cooler.
Ask questions to obtain information about the purpose of weather forecasting to prepare for, and respond to, severe weather. Emphasis is on local forms of severe weather.
Use tools and materials to design and build a structure that will reduce the warming effect of sunlight on an area. Examples of structures could include umbrellas, canopies, and tents that minimize the warming effect of the sun.