Kindergarten Writing Journals THE BUNDLE Writing Prompts for ENTIRE YEAR K,1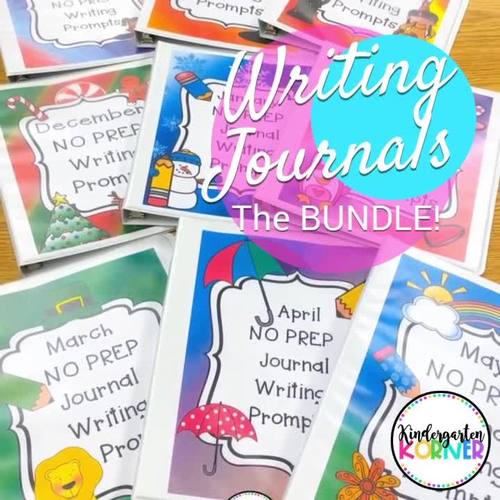 ;
What educators are saying
I love using this resource during writing. The students enjoy the different prompts and it gets them thinking outside of the box. It has really sparked creativity in their writing.
This was very teacher friendly and my students enjoyed the fun activity! These journals made my daily prep and planning so easy!
Products in this Bundle (9)
showing 1-5 of 9 products
Bonus
Kindergarten Korner Terms of Use and Font Credits
Also included in
This bundle includes all of my must-haves for teaching writing in kindergarten. The resources can be used in the classroom, for distance learning, or for homeschooling. If you are beginning the year remotely, these resources can be combined into binders or packets to be sent home. While digital r

Price $110.00

Original Price $137.50

Save $27.50

This resource combines two of my best sellers into one must-have bundle for the entire year! Here's what's included:9 months of Kindergarten Writing Journals9 months of Kindergarten Math JournalsWriting Journals:This Journal Writing Prompts BUNDLE for the ENTIRE YEAR includes 9 months of NO PREP wr

Price $68.00

Original Price $81.00

Save $13.00

With more and more families homeschooling, I wanted to create a bundle of resources to support parents who make the decision to homeschool their kindergartener.With 17 years of experience teaching kindergarten, I have had great success using these resources in the classroom and with my own children

Price $159.00

Original Price $183.00

Save $24.00
Description
Kindergarten Writing Journals / First Grade Writing Journals THE BUNDLE for the ENTIRE YEAR includes 9 months of NO PREP writing prompts for use as monthly journals, writing centers, Writer's Workshop, or morning work in kindergarten or first grade.
Teachers love the format, especially the writing checklist that helps guide emerging writers and allows them to self-assess their work. These TPT Featured Journals are perfect for in-person instruction as well as distance learning! Check out the preview to see more, and read the reviews for yourself!
All Writing Journals / Writing Prompts Monthly Packages Include:
Binder Cover
Choices for Student Journal Covers
24+ Writing Prompts
Primary Lined Paper with Writer's Checklist - (Shaded blue area copies beautifully as a light gray!)
2 Formats/ Versions depending on how you would like to use the pages
VERSION 1:
"Name" area included at the heading of each page
4 lines of primary lined paper (Blue shaded area copies as light gray.)
Room for students to complete prompt and add additional sentence
Writer's Checklist at the bottom
This format is great for individual use either during Writing Workshop time or as a Writing Center. Works well with the Daily 5 or any literacy centers!
VERSION 2:
for use as a journal
Choice of cover options. Choose cover, arrange pages in the order you like, copy and staple!
"Name" area not included as students write names on journal cover
5 lines of primary lined paper. - Extra writing line for students to write more details! Students finish prompt and eventually write a second or third sentence.
Writer's Checklist at the bottom
The Writing Checklist featured at the bottom of the journal paper helps beginner writers in kindergarten and first grade to stay on track!
No Prep Journal Writing Prompt FREEBIES Available under my FREEBIES & DOLLAR DEALS category! Download and print a sample today!
No Prep Journal Writing Prompts are also sold separately under the MONTHLY JOURNAL PROMPTS category! SAVE with the YEARLY BUNDLE!

PLEASE READ BEFORE PURCHASING :)
This resource is for personal use only. No commercial use is permitted.
Please note this is a DIGITAL file, which you will print. No physical product will be shipped. Resource is sold exactly as shown. Customizations, changes, or personalization may not be made to this resource. Thank you for understanding!
You will need to open your purchased file from a computer – not a phone. I have had some messages from buyers stating they did not receive or cannot download the file. It was a quick fix – they were all trying to access the file from a phone. I suggest always working from your computer if possible!
COPYRIGHT and TERMS of USE:
Thank you so much for your support of Kindergarten Korner LLC. I love designing and sharing my resources, and I hope they can help you in your teaching or homeschooling journey.
Your purchase of this resource is for one teacher / homeschooling family only unless additional licenses are purchased (one per teacher). This file may not be shared in person with teammates / homeschooling pods or electronically. The resources may not be posted anywhere online, in a shared in a Google drive, or on any online platform.
Please keep in mind that all digital resources, including FREEBIES, are protected under the D.M.C.A. and may not be shared. A good rule of thumb to remember when it comes to copyright and TPT files is that if you didn't create it, you may not share it electronically or in person. Instead, please share the website link to purchase the paid resource or download the freebie.
Thank you respecting my work and the entire online creator community! Please see product download for full TOU and clip art credits. If you like what you see, be sure to follow my TPT Store for new product releases, updates, sales, and freebies!
Report this resource to TPT
Standards
to see state-specific standards (only available in the US).
Use a combination of drawing, dictating, and writing to compose opinion pieces in which they tell a reader the topic or the name of the book they are writing about and state an opinion or preference about the topic or book (e.g., My favorite book is...).
Use a combination of drawing, dictating, and writing to compose informative/explanatory texts in which they name what they are writing about and supply some information about the topic.
Use a combination of drawing, dictating, and writing to narrate a single event or several loosely linked events, tell about the events in the order in which they occurred, and provide a reaction to what happened.