Kindergarten Writing Prompts Bundle - Opinion, Narrative, Informational, How To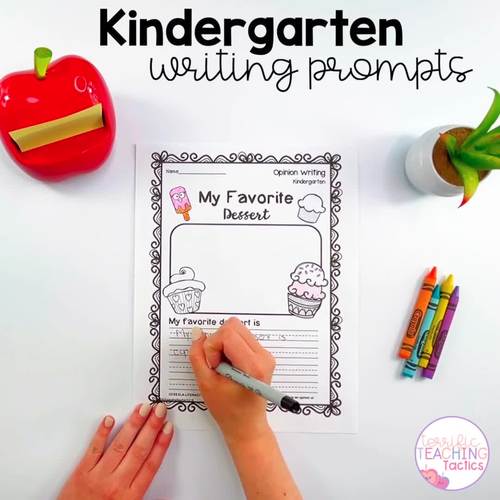 ;
120 Pages (100 prompts + 20 blank templates)
Easel Activities Included
Some resources in this bundle include ready-to-use interactive activities that students can complete on any device. 
Easel by TPT is free to use!
Learn more
.
Products in this Bundle (4)
Description
Are you looking for kindergarten writing prompts? You'll love these opinion writing, narrative writing, how to writing, and informational writing worksheets for no prep writing centers and writing lessons.
This bundle will ensure that you have writing covered for the whole year! It features 4 resources (with a total of 100 writing prompts/worksheets and 20 blank templates) that cover the three common core standards for opinion, narrative, and informational writing.
Kindergarten Opinion Writing Prompts
Kindergarten Narrative Writing Prompts
Kindergarten Procedure Writing Prompts
Kindergarten Informational Writing Prompts
Opinion Writing Prompt FREEBIE
Narrative Writing Prompt FREEBIE
Procedure Writing Prompt FREEBIE
Informational Writing Prompt FREEBIE
Note: These worksheets can be used for First Grade students, depending on their capabilities.
Whole group writing lessons
Small group work (literacy and writing centers)
Writer's Workshop
Independent writing practice
Early finishers
Morning work
Homework
Assessment
Each product has 30 pages of writing prompts/worksheets for the standard (25 ready to go and 5 blank templates). The prompts are in 5 different template styles. Some are more scaffolded with boxes or steps, whereas others have more lines, for more advanced writers. Please view the preview and individual products to get a closer look!
Perhaps your students hate or struggle with writing. These engaging prompts have fun themes and topics that will get your reluctant writers enjoying your lessons!
Or perhaps you're time poor. You are sick of spending your evenings and weekends searching for writing prompts and prepping writing lessons/centers. These writing worksheets are no prep! There are so many prompts included, you'll be set for the year!
Enjoy this resource! Don't forget to follow my store for more awesome products and rate this product for your TPT credits :)
Total Pages
120 Pages (100 prompts + 20 blank templates)
Report this resource to TPT
Standards
to see state-specific standards (only available in the US).
Use a combination of drawing, dictating, and writing to compose opinion pieces in which they tell a reader the topic or the name of the book they are writing about and state an opinion or preference about the topic or book (e.g., My favorite book is...).
Use a combination of drawing, dictating, and writing to compose informative/explanatory texts in which they name what they are writing about and supply some information about the topic.
Use a combination of drawing, dictating, and writing to narrate a single event or several loosely linked events, tell about the events in the order in which they occurred, and provide a reaction to what happened.
With guidance and support from adults, respond to questions and suggestions from peers and add details to strengthen writing as needed.
Participate in shared research and writing projects (e.g., explore a number of books by a favorite author and express opinions about them).