Kindness Activities and Discussion Question| Kindness Posters and Bulletin Board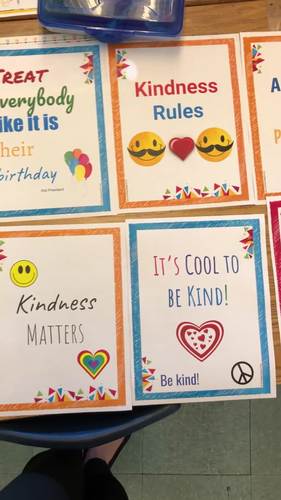 ;
PDF

Google Apps™
Includes Google Apps™
The Teacher-Author indicated this resource includes assets from Google Workspace (e.g. docs, slides, etc.).
What educators are saying
The collaborative aspect was very enjoyable for my students! Great resource to supplement our character education discussions.
My school did a month long focus and whole school project on kindness. This resource was an awesome way to incorporate discussions on kindness in my classroom.
Also included in
Easily assign these 9 engaging Google Slides products through Google Classroom for distance learning or in the classroom. They include a Distance Learning Writing Prompts Journal, All About Me Collaborative Activity, Digital Reading Logs and Graphic Organizers, Student of the Day digital posters, 5

Price $23.20

Original Price $47.00

Save $23.80

This YEAR-LONG bundle currently includes 11 separate Collaborative Activities in Google Slides to use with your students during the year. What are collaborative digital activities? In these products, students all work in ONE Google Slides presentation to share what they're thankful for, poetry, sign

Price $24.80

Original Price $62.00

Save $37.20

My BESTSELLERS bundled together to help you use and create all things Google in your classroom whether you're distance learning or in-person teaching. You'll get a bundle of premade activities in Google Slides that you can use throughout the year including a back to school activity, digital reading

Price $23.99

Original Price $47.00

Save $23.01

Get $145 worth of free products with our entire year bundle! 50+ activities and resources in Google Slides to use with your 2nd grade students. Back to School activities, agenda slides, vocabulary digital notebook, biography report templates, parent teacher conference slides, graphic organizers, cou

Price $119.20

Original Price $290.50

Save $171.30

Get $125 worth of FREE products with this entire year bundle! 40+ activities and resources in Google Slides to use with your 3rd grade students. Back to school activities, digital agenda slides, parent teacher conference slides, holidays around the world, graphic organizers, multiplication mystery p

Price $103.20

Original Price $253.50

Save $150.30

8 engaging, digital activities for New Years 2023, the Great Kindness Challenge, researching with biography templates, practicing self-love and mindfulness, sending digital Valentines, using Jamboard for morning meeting and Super Bowl predictions, and more!You'll save 35% by buying this BUNDLE! What

Price $21.60

Original Price $54.00

Save $32.40
Description
These Google Slides activities will supplement your character education unit on kindness or add to your Valentine's Day activities. Students will set personal kindness goals, give evidence of characters who display kindness, create a class kindness collage, design posters to promote kindness around the school, and more! Print the slides to create a kindness bulletin board for your room or hallway.
*Note: Posters in the video preview are EXAMPLES of the posters my students created. Your students will use the blank templates to create their own.
These kindness activities and discussion slides are perfect for your students while they participate in the Great Kindness Challenge, during your character education unit on kindness, around Valentine's Day, or anytime of the year.
Students will work collaboratively in all 5 Slides Presentations, either all on the same slide or on their own individual slides in the presentation.
Click here to save 30% with our WINTER DIGITAL ACTIVITY BUNDLE
(Also includes January and February Jamboards, Biography Report Templates, Digital Valentines, and more)
★ Discussion Slides
• Create a Class Kindness Pledge
• What does this quote mean to you? (editable quote)
• When is it the hardest to be kind?
• What should you do when someone isn't kind?
★ Kindness Collage (all students insert images onto one slide)
★ Kindness is ... (all students type onto one slide)
★ How I'll Show Kindness activity (setting personal goals)
★ Kind Characters activity (giving evidence of character's thoughts, feelings, actions)
★ Kindness Poster Templates (create, print, & display around school)
★ How to Create a Kinder World Book Templates (create, print, & bind or view as slideshow)
★ Also included is a 20 page teacher's guide for sharing the presentations with or without Google Classroom, tips for students collaborating in the same presentation, editing slides, inserting pictures, adding fonts, and more.
Please click the PREVIEW to see more examples of these activities.
This activity is great for students who are just starting to use Google Slides and also those already Google Slides savvy.
Text boxes have already been created so students know where to type
All shapes are locked down
*NOTE: When you purchase this product, the license can be used for one classroom, not an entire grade level or school. Please purchase multiple licenses if it will be used by more than one teacher. Thank you.
Kathryn Averkamp - kat@makewayfortech.com
Google Certified Educator
Master's degree in Educational Technology
Taught each grade K-4 over the past 11 years
Awarded Teacher of the Year for the 2019-2020 school year
♥ Don't forget you can earn TpT credits by leaving a review after you purchase products.
----------------------------------------------------------------------------------------------------------------------------
⭐⭐⭐⭐⭐More Google Activities ⭐⭐⭐⭐⭐
December and January Resources
• Holidays Around the World Digital Adventure + Assessment
• New Year's Resolution 2021 Class Activity (Best Seller)
• I Have a Dream (Martin Luther King Jr. Day) Digital Poster Class Activity
• The Great Kindness Challenge Activities in Google Slides
• Digital Growth Mindset Poster Activity
• Winter Digital Multiplication Mystery Pictures

Valentine's Day Resources
• Digital Valentines - send them digitally!
• Printable Valentines in Google Slides
• Self-Love and Mindfulness Class Activity

All Year Resources
• Morning Meeting Jamboard Templates
•Parent Teacher Conferences
• Assignment and Agenda Slides with Timers
• Digital Stickers: Improvement Needed + Motivational
• Student of the Day/Week Digital Posters & Class Book
• Printable Growth Mindset and Inspirational Quote Posters
• Entire Year Ultimate Google Slides BUNDLE (Growth Mindset, Reading  Logs, Sharing Projects, more)

Learn Google Classroom for Teachers
• FREE PDF Guide to Google Classroom
• The Ultimate Video Course for Using Google in Your Classroom
Start mastering Google Classroom and creating interactive Google Slides activities and self-grading assessments in Google Forms. This complete video course will teach you everything you need to know about using Google accounts in your classroom. You'll get instant access to more than 35 easy-to-follow videos that I created specifically for beginners

Writing/Reading
• Distance Learning Writing Prompt Journal "My At-Home Adventure."
• Digital Reading Logs and Graphic Organizers
• Digital Vocabulary Notebook For Any Subject
• Digital Stickers: Improvement Needed + Motivational
• Mother's Day Cards in Google Slides

Math
• Add and Subtract within 20 Word Problems (Great for review/assessment)
• Repeated Addition, Arrays, Equal Groups (Great for review/assessment)
• Entire Year Digital Multiplication Mystery Pictures in Google Slides
• Counting Coins and Bills Activities and Assessment
• Subtraction - Regroup or Not?
• Subtraction with Regrouping Word Problems Review (Topic 6 Envision)

Social Studies
• Me on a Map Digital Flipbook + Landforms Digital Flipbook
• Google Slides Sharing Projects (Timelines, Family Traditions, Community Workers Current Events)
• Communities: Rural, Urban, and Suburban in Google Slides (+ Google Earth!)
Beginning of the Year
• Back to School Night/Open House/Meet the Teacher Presentation
• Top 5 Picks of Summer Collaborative Class Activity
• 9 Back to School Google Activities
Report this resource to TPT
Standards
to see state-specific standards (only available in the US).
Describe how characters in a story respond to major events and challenges.
Describe characters in a story (e.g., their traits, motivations, or feelings) and explain how their actions contribute to the sequence of events.
Describe in depth a character, setting, or event in a story or drama, drawing on specific details in the text (e.g., a character's thoughts, words, or actions).