Kindness Caring & Sharing Activities Book Companion Reading Comprehension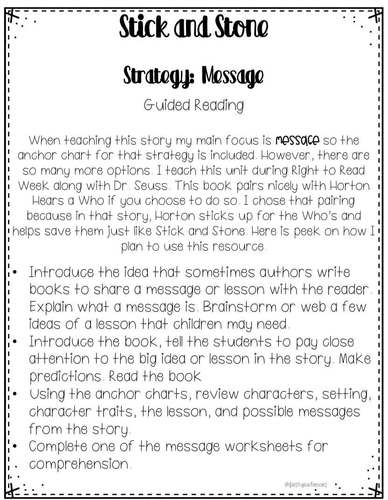 ;
Products in this Bundle (5)
Also included in
Are you looking for a way to use real children's literature to teach your students guided reading strategies in whole group? This bundle will provide a weekly focus theme and reading comprehension strategy for your whole group guided reading. It is designed for a first grade classroom but can be ad

Price $400.00

Original Price $652.50

Save $252.50

This bundle includes all of the units I use to teach guided reading in the month of March. The first unit is Kindness, Caring and Sharing. It includes 5 anchor text stories that focus on teaching message. The stories include Those Shoes, Strictly No Elephants, Pig the Pug, Stick and Stone, and The S

Price $45.00

Original Price $63.50

Save $18.50
Description
This Unit is a bundle of 5 different stories that focus on developing growth mindset by teaching kindness and sharing. The feature texts are, Those Shoes, Strictly No Elephants, Pig the Pug, The Sandwich Swap, and Stick and Stone. All of the stories focus on message and character traits. Many other reading comprehension strategies are included as well such as retelling, sequencing, writing, text connections and more. Students will learn all about standing up for one another, kindness and friendship. There is a several different crafts, lesson plans, as well as colorful posters to help create an anchor chart as you read each of these stories. Build awareness and teach friendship, sharing and kindness with this fun and educational unit.
Anchor Texts:
Stick and Stone by Beth Ferry
The Sandwich Swap by Kelly DiPucchio
Pig the Pug by Aaron Blabey
Strictly No Elephants by Lisa Mantchev
Those Shoes by Maribeth Boelts
Reading:
Predicting
Message
Text Connections
Character Senses
Features of Fiction
Character Feelings
Retelling
Main Idea and Details
Sequencing
Writing:
2 activities to choose from for each anchor text. Pre-writing is included for most activities unless it is a list or letter writing.
Other Activities
Pig the Pug Craft
Elephant Craft
Treehouse Craft
Shoe Craft
Sandwich Craft
Stick Craft
Stone Craft
Colorful anchor charts for each story
This is also part of a weekly series and included in my MEGA guided reading bundle filled with activities for 40 weeks of fun! Check out the other resources hereGuided Reading with a Purpose Series
@Megan Mitchell
Report this resource to TPT
Standards
to see state-specific standards (only available in the US).
Ask and answer questions about key details in a text.
Retell stories, including key details, and demonstrate understanding of their central message or lesson.
Describe characters, settings, and major events in a story, using key details.
Identify words and phrases in stories or poems that suggest feelings or appeal to the senses.
Explain major differences between books that tell stories and books that give information, drawing on a wide reading of a range of text types.