Kindness Classroom Challenge, Calendars, & Activities - Random Acts of Kindness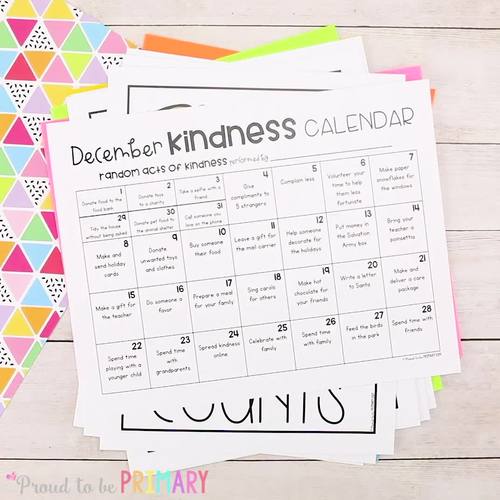 ;
85 (includes editable files, color/b&w options)
Description
This Kindness Classroom challenge pack was created for teachers wanting to build more kindness into each school day. Challenge your students to complete acts of kindness all year long and keep track on the kindness calendars!
Create a kindness challenge bulletin board or display with the daily challenge and the quote posters that everyone will be proud to show off! The Kindness Classroom pack includes all the materials necessary to turn your classroom into a KINDNESS CLASSROOM!
Why start a kindness challenge?
This kindness challenge pack is the perfect way to encourage kindness daily through random acts of kindness and incorporate social emotional learning in the classroom.
With the easy-to-prep materials, a bit of dedicated wall space, and some time, your class can become a group of KINDNESS KIDS that make HUGE IMPACT in the school and community!
What does the Kindness Classroom pack include?
Look at the PREVIEW and watch the VIDEO for a look at this resource up close and the materials included!
Teachers are provided with the layout of the materials provided, instructions, and photos in action (see the PREVIEW).
♥Kindness Challenge Posters & Materials
Encourage kindness daily by posting a challenge for the day using the posters provided. Choose the daily kindness challenges you want your class to complete. Type them onto the EDITABLE cards and print. Hang the posters and daily challenges on a whiteboard or bulletin board. A variety of poster options included, as well as color/black&white versions.
♥Kindness Calendars for the Whole Year (12 month)
Kindness Calendars are a wonderful way to encourage intentional acts of kindness. Kids will enjoy the challenge of completing the acts of kindness and will grow socially and emotionally, while others will appreciate the kind gestures.
Create a booklet with all of their calendars in one place and encourage kids to keep track by coloring in the spaces as they complete each act of kindness.
♥Kindness Bulletin Board
Create a kindness bulletin board display using the letters and posters with quotes about kindness.
♥Kindness Project Templates
Have kids create their own kindness projects and keep track of the planning, implementing, and reflection.
♥Kindness Quote Posters
Use the Kindness Cards to encourage kids to be kind or for kids to give out to others as a kind act.
♥Kindness Cards
Teach kindness mantras that kids can color and hang in the classroom or take home to share with their families.
♥Kindness Notes
Let kids know that you notice them being kind by giving them a kindness note!
TEACHERS LIKE YOU SAID...
⭐️⭐️⭐️⭐️⭐️ Jessica H. says, "Kindness is very important and something I stress within the classroom. A great resource that my students enjoyed and also made my life easier!"
⭐️⭐️⭐️⭐️⭐️ Jenny C. says, 'This is a great resource and challenge activity. Students were really into the activities in the calendar and they loved the little notes that came with the kindness project."
⭐️⭐️⭐️⭐️⭐️ Julia M. says, "I've had issues with bullying in my classroom this year. This was perfect to incorporate! We talked about ways to be kind, and highlighted students who completed the challenges. It's helped a ton!"
FAQ:
Is this resource included in the mind+heart K-2 curriculum or Kindness units?
This resource is NOT included in the curriculum or Kindness unit for K-2 or 3-5.
In the Kindness unit for K-2 you will find only one calendar, while the Kindness unit for 3-5 includes a full year of calendars.
The Kindness Classroom challenge pack would be a wonderful addition to extend and promote kindness all year long with either Kindness unit.
♥♥The mind+heart Social Emotional Learning Curriculum for K-2 and mind+heart Social Emotional Learning curriculum for 3-5 are SEL curricula for the whole year and is available for a SPECIAL DISCOUNT. Get your entire year's worth of lessons (40 included) and activities to help kids to develop emotional literacy, self-control, and social competence TODAY! ♥♥
Check out the other SEL units for K-2:
Self-Regulation & Self-Control
Responsibility, Goal Setting, & Conflict Resolution
Check out the other SEL units for 3-5:
Growth Mindset & SMART Goal Setting
Social Awareness: Empathy, Peer Pressure, Conflict Resolution, Bullying
Kindness, Gratitude, & Bucket Filling
Respect, Honesty & Integrity, & Stereotyping
Responsibility, Leadership, & Decision Making
Related Products:
STAY CONNECTED WITH PROUD TO BE PRIMARY
♥CLICK HERE TO FOLLOW OUR STORE AND RECEIVE NOTIFICATIONS OF NEW PRODUCT RELEASES, SALES, AND FREEBIES.
♥JOIN OUR EMAIL LIST AND GET WEEKLY TEACHER TIP EMAILS AND ACCESS TO OUR FREE RESOURCE LIBRARY.
♥VISIT OUR WEBSITE AT PROUD TO BE PRIMARY FOR TONS OF ENGAGING IDEAS FOR TEACHING KIDS!
♥JOIN OUR FREE FACEBOOK GROUP AND CONNECT WITH THOUSANDS OF PROUD K-3 TEACHERS.
Have questions?
Please ask all questions before purchasing or email me at elyse@proudtobeprimary.com.
Terms of Use: This product is licensed for personal classroom use ONLY unless multiple licenses are purchased. Your purchase grants you a license to use in a secure, password-protected online platform (such as Google Classroom) with your students only. You may not transfer or share with another teacher or use for commercial purposes (Outschool, etc.).
©2013 to Present - Proud to be Primary - Elyse Rycroft
Total Pages
85 (includes editable files, color/b&w options)
Report this resource to TPT
Standards
to see state-specific standards (only available in the US).
Participate in collaborative conversations with diverse partners about kindergarten topics and texts with peers and adults in small and larger groups.
Follow agreed-upon rules for discussions (e.g., listening to others and taking turns speaking about the topics and texts under discussion).
Continue a conversation through multiple exchanges.
Speak audibly and express thoughts, feelings, and ideas clearly.
Participate in collaborative conversations with diverse partners about grade 1 topics and texts with peers and adults in small and larger groups.