Kindness Hearts Bundle - Valentine's Day Kindness Activity | Positive Messages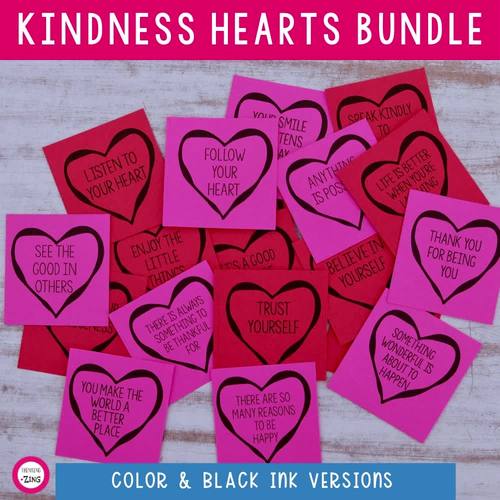 ;
Products in this Bundle (2)
Description
Kindness Heart cards (Student compliment cards) is a kindness activity designed to help spread kindness, inspiration, gratitude and positive messages throughout the school. They encourage positive classroom culture and a school culture of kindness by making all students, teachers and staff feel important and valued. They can be used as positive message cards, compliment cards or celebration cards(notes).
Includes- Watercolor & Black and White Sets which each include:
160 Different positive messages
9 Pages with 20 cards on each sheet
Both the watercolor Kindness Heart Set and the Ink Friendly Set have almost identical messages. The bundle was created for buyers who wish to have both the watercolor and ink friendly versions and save money.
* PLEASE NOTE: These cards are tiny when cut out. They measure approximately 2 x 2 inches. There are 20 cards on each sheet. They are designed to be small like confetti to spread kindness throughout the school.
Report this resource to TPT