Langston Hughes Lesson Plan and Activities for Seven Poems with Answer Key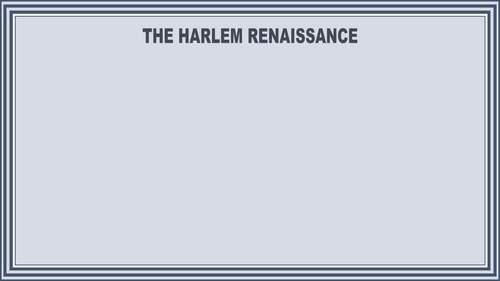 ;
Easel Activity Included
This resource includes a ready-to-use interactive activity students can complete on any device. 
Easel by TPT is free to use!
Learn more
.
What educators are saying
I was able to use this for a demonstration lesson. I loved the analysis of the poems and everything was well put together, no prep. I can't wait to use this with students.
Description
Enjoy this engaging activity to study Langston Hughes's Harlem Renaissance poetry. Content, diction, imagery, and compelling messages about Black honor and pride are fascinating and relevant to your high school ELA students. The Harlem Renaissance was the time when Black Americans established a platform for their voices to be heard. Langston Hughes was the a prominent writer of the Harlem Renaissance. His poetry style and message portrays the plight of Black Americans and brings attention to the injustices that remain in the American society. No prep.
This resource is a study of seven important poems by Langston Hughes:
"Let America Be America Again"
"The Negro Speaks of Rivers"
Printable PDF or TPT Digital Easel Activity
There are 34 pages in this resource:
Brief biography of Langston Hughes
Each poem study includes an annotation/highlighting activity for students to identify literary elements.
Questions for analysis of content and synthesis.
Some poems include references to outside sources, critics, and other writers, with questions referring to their observations about the poetry.
Each page of annotation and questions has an identical page answer key.
Culminating activity, ten questions that compare and contrast poems and ask students about Hughes's message and motivation.
List of the Video Clips (with links) that I use in my classes.
Attractive with clear font
Space for student responses
Please click on "View Preview" on the product page to see the entire resource.
Thank you for your consideration of this resource.
Related Products:
HARLEM RENAISSANCE BUNDLE Intro Presentation, Poet Presentations, and Research
Langston Hughes "The Negroe Speaks of Rivers" PRESENTATION
Harlem Renaissance Dynamic Powerpoint
Click here to browse all of my Harlem Renaissance resources:
________________________________________
Don't forget to leave a review to earn credit toward future purchases.
Connect with me…
To follow my store and receive notifications
about new resources and store sales, click below:
O SOME GREAT STUFF FOR ENGLISH TEACHERS TPT STORE
Follow me anywhere and everywhere…
Subscribe to my monthly newsletter AND receive a valuable
free resource; click below:
Have a pleasant day!
Lori O
Report this resource to TPT
Standards
to see state-specific standards (only available in the US).
Determine two or more themes or central ideas of a text and analyze their development over the course of the text, including how they interact and build on one another to produce a complex account; provide an objective summary of the text.
Analyze the impact of the author's choices regarding how to develop and relate elements of a story or drama (e.g., where a story is set, how the action is ordered, how the characters are introduced and developed).
Analyze multiple interpretations of a story, drama, or poem (e.g., recorded or live production of a play or recorded novel or poetry), evaluating how each version interprets the source text.