LISTENING SKILLS Worksheets and Activities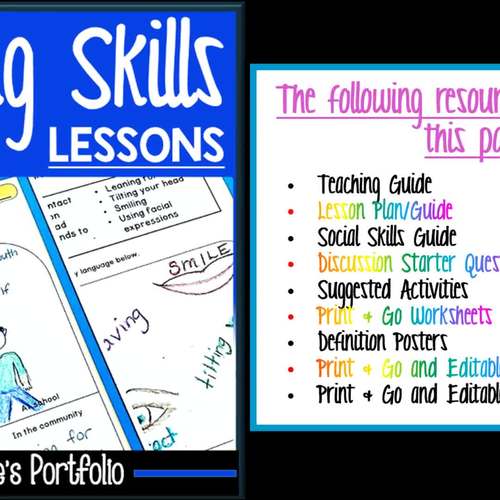 ;
Also included in
This bundle has been recently updated!!! An UPDATED font/look, more activities, and updated editable awards and vouchers have been added to each packet. Please re-download this bundle to get the most recent version if you have already purchased it.Character education and social skills are very impor

Price $79.99

Original Price $165.00

Save $85.01
Description
I created this LISTENING SKILLS Packet as the path to happiness lies in how we treat one another. Furthermore, it is human nature to want to feel heard and respected in life. This packet is intended to help a child learn good listening skills and to become their greatest self in doing so. It is filled with activities, lessons, worksheets, posters, awards, and vouchers that are easy to use and great for classroom management! You may view all similar packets here!
Click HERE to save $$$ by buying all CHARACTER EDUCATION PACKETS in one BUNDLE!
SUGGESTIONS FOR TEACHERS, SPECIALISTS, AND HOMESCHOOLING PARENTS
Focus on listening skills by discussing this virtue and poster. To deepen it's meaning, focus on an activity, suggestion, book, or printable. Once an understanding of this trait has been achieved and demonstrated, present award(s). Visit my store to purchase similar virtue packets, awards, posters, and task cards.
INCLUDED VERSIONS
Color and Black & White Activities in PDF
Color and Black & White Awards, Posters and Vouchers in PDF
Editable Awards and Vouchers in PowerPoint (student's name, signature and date may be edited on awards, and student's name, reason voucher was given and privilege earned may edited on vouchers).
INCLUDED RESOURCES
Teaching Guide
Lesson Plan/Guide
Definitions and Social Skills Guide
Discussion Starter Questions
Suggested Reading Guide
Activity #1 Ways To Listen
Activity #2 Interactive Listening Story
Activity #3 Act It Out!
Activity #4 Good Listening Skills
Activity #5 Attention Tray
Activity #6 A Story Chain
Activity #7 Listening Field Trip
What Do You Hear? Printable
Activity #8 Sing, Write or Rap!
Sing, Write or Rap! Printable
Activity #9 Student Call Backs
Attention Grabber Poster (1)
Attention Grabber Poster (2)
How Can I Be a Good Listener? Printable
Attentive Behavior Printable
Body Language Printable
What Does It Mean to Be a Good Listener? Printable
Attention Acrostic Poem Printable
Listening Words Printable
Attentiveness Poster
Attentiveness Award
Listening Poster
Listening Award
Good Listening Vouchers
TOU and Credits
GET TPT CREDIT
Go to your "My Purchases" page, and click the Provide Feedback button. Each time you provide feedback, TPT gives you credits that may be used towards the cost of your future purchases. Your feedback is greatly valued and helps me determine future products. Thank you!
WANT TO JOIN MY NEWSLETTER?
SUGGESTED GRADE LEVEL
I have suggested a grade level of K - 5 to include children on the spectrum and children in mainstream classes. Please preview the packet above when determining if it meets your needs and email me with any questions if desired.
EMAIL
I may be contacted at penelopesportfolio@outlook.com
SIMILAR PRODUCTS
Report this resource to TPT