La Guerra Sucia Listening and Comprehension Activity in Spanish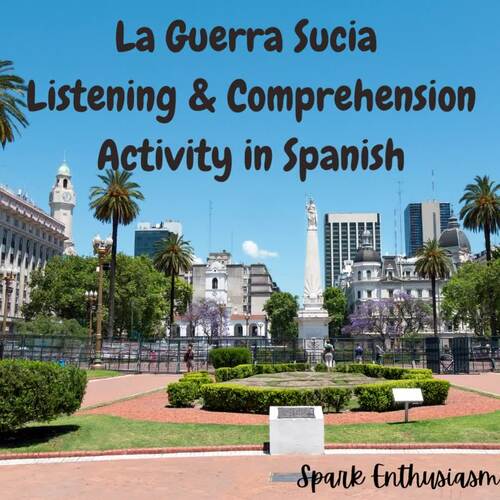 ;
10

th

- 12

th
,
Higher Education
,
Adult Education
,
Homeschool
Description
This video activity is perfect for intermediate and advanced Spanish students that are studying Argentina and the Dirty War! This activity accompanies a Spanish video about La Guerra Sucia as well as Las Madres de la Plaza de Mayo in Argentina.
The video explains the struggle to find the missing children and the Dia Nacional del Derecho a la Identidad. This video is superb and explains the Dirty War in a very concise manner. Also included are links for the video with and without subtitles in English. This activity includes comprehension questions, 2 links for the video, and an answer key. There is an additional link at the end of the activity to further the students' knowledge and extend their thinking.
What Teachers Like You Are Saying:
⭐⭐⭐⭐⭐ This is a great addition to my human rights unit. ¡Gracias!
⭐⭐⭐⭐⭐ Loved this activity with the listening and it's a great video to get the main details across!
⭐⭐⭐⭐⭐ What a well done lesson about La Guerra Sucia. Thank you so much for doing this and for including the answer key!
Please see other excellent intermediate and upper level activities for topics such as Child Labor, Natural Disasters, Environmental issues, Holidays and Customs, Education, Poverty, Family and Social Relationships, The Dirty War, Heroes, The Year of the Selfie, Texting and Driving, The Use of Smartphones in Spain, Spanish-speaking artists, Cesar Chavez, and more in the sparkenthusiasm store or from our site! AP Spanish and IB Spanish students will benefit greatly from these activities!
Additional AP Video and Reading Activities
Let's connect! We would love to hear from you!
Have a great school year!
Report this resource to TPT