La hora: Telling time in Spanish notes and reading - Print & Paperless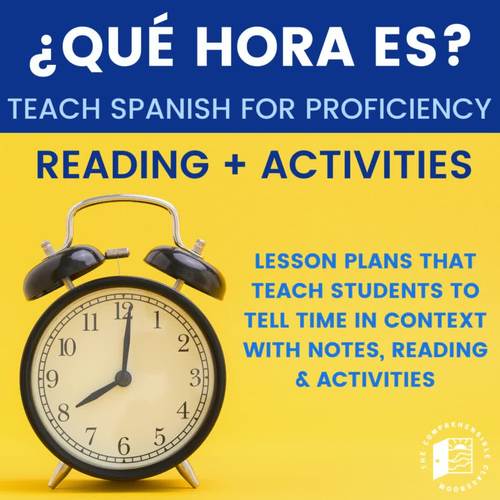 ;
What educators are saying
What a great introduction to telling time for beginning Spanish students! It was easy to use and easy to understand. I will definitely be using this every year!
My students loved reading a story in Spanish and were so proud of themselves for understanding all of it!
Also included in
This product contains the following units and supplemental activities from the SOMOS curriculum: Unit 6 - SiéntateReading: La criatura Unit 7: Los Castells de TarragonaUnit 8: La comida latinaSong activity: Te Amo by NotaMi Bolivia / Possessive adjectivesUnit 9: El cucuyCultural Activities: El Silbó

Price $65.00

Original Price $69.00

Save $4.00

The Somos Curriculum is an acclaimed Proficiency-oriented, Comprehension-based Novice Spanish curriculum for Spanish 1 and 2. The Somos Curriculum for Novice Spanish makes teaching for proficiency easy. With step-by-step daily lesson plans, student printables, assessments, slideshows, and detailed l

Price $400.00

Original Price $542.00

Save $142.00
Description
Teach your Spanish 1 students how to tell time in Spanish with these proficiency-focused lesson plans that do more than just give your students notes!
INCLUDED IN THIS PRODUCT:
Guided notes with fill-in guide
A Spanish-language reading targeting time expressions (provided as a projectable Slides resource and a reproducible worksheet)
A reading activity
A class schedule discussion activity
A communicative activity
Answer keys
Lesson plans
PAPERLESS notes and worksheet pages in Google Slides
These activities will fill 90-120 minutes of class time. The product download is a PDF that contains a clickable link to a Drive folder that holds all resources.
Teaching Duration
90 minutes
Report this resource to TPT