Language Arts Leveled Daily Curriculum {BUNDLE}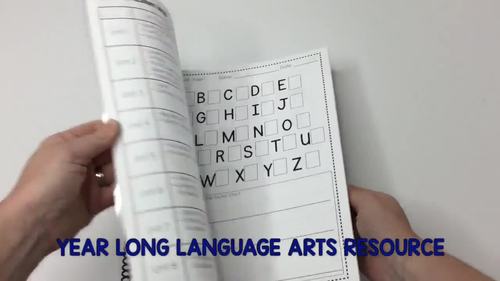 ;
Easel Activities Included
Some resources in this bundle include ready-to-use interactive activities that students can complete on any device. 
Easel by TPT is free to use!
Learn more
.
What educators are saying
Wonderful resource to utilize as a yearlong ELA curriculum! Perfect for whole group, centers or independent work.
I love this resources! This allows me to have student materials at various levels and has been a wonderful resource for my students!
Products in this Bundle (3)
Description
Get all 3 levels of the Language Arts Leveled Daily Curriculum with this money saving bundle! You will have everything you need for your multi-level classroom! Over 540 activities are included!
This resource provides 3 versions of a year-long language arts curriculum that focuses on teaching foundational skills, beginning academics, and advanced academic skills. The curriculum is structured, visually based, breaks down larger skills into manageable steps, embeds assessments, and utilizes data-based decision making.
Each level includes 8 units plus a review unit! Each unit includes:
- a pre-test and post-test
- grading rubric with data-based decision making component
- anchor chart
- 20 pages of activities
Check out each Level to see the skills included:
This curriculum is designed to use one page of activities per day. Your language arts instruction for the entire year is planned! Over 540+ activities are included!
Also included in these resources:
- 2 types of lesson plan templates
- detailed curriculum map
- 2 types of data sheets
Check out the in-depth video tutorial to learn more about each expansive and essential resource:
Language Arts Level 1 Video Tutorial
Language Arts Level 2 Video Tutorial
Language Arts Level 3 Video Tutorial
Need higher level materials?
Language Arts Leveled Daily Curriculum LEVEL 4
Not sure what level works for your student? Check out the skills matrix below:TAH Curriculum Skills Matrix
Check out how to use this resource digitally with Google Classroom:
Using TAH Resource Digitally on TpT
For more resources, tips, and materials to help you help children with autism please visit The Autism Helper
Report this resource to TPT