Last Week and First Week of School Activities BUNDLE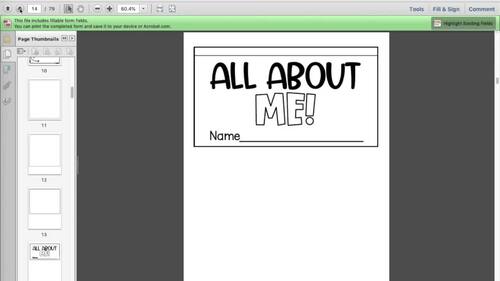 ;
What educators are saying
These have been great to have to start and finish the year. Minimal prep, but high engagement. Thank you!
Great resources for two important times in the school year! I have used the beginning of the year activities and look forward to using the second part at the end of the school year.
Products in this Bundle (2)
Description
A bundle that includes activities you can use the first days of school and the last days of school!
Minimal prep for the first day or first week of school activities. Need a quick and easy activity for all students to be able to work on while you deal with organizing supplies, that crying kid in the hall, the new student suddenly added to your class or the parent trying to tell you all about their kid right this second? Sound familiar? This pack has you covered. Also includes digital first day of school distance learning activities. 
PRINTABLE options include:
First Day play dough mats ("Doh" be shy! Open it up and make something!)
Play dough draw/write prompts
Icebreaker BINGO
All About Me flipbook craft (with boy and girl toppers)
All About Me coloring page
All About Me mobile craft
Back to school word search
Back to school crossword puzzle
Guess my School Supply game cards
Classmate Photo Album
Welcome banner coloring activity
Self portrait drawing/coloring page
Foldable desk name plate
Desk greeter tags (3 options)
Raccoon craft (The Kissing Hand writing craft)
Editable First Day of School photo prop signs (3 options)
BONUS DIGITAL (Google Slides) options include:
Disguise the Teacher
Disguise Yourself
Student Survey (digital get to know you bingo)
Student Names (students practice typing their names and using Google font formatting options)
Count the Letters (group counting--figure out how many of each letter for all names)
Silly Name Game
Secret Picture Reveal
School Strip Puzzle
Word Search
Building My Name (drag and drop letters)
Writing Response Slides (My Self Portrait, My Favorite Food, My Favorite Animal, My Favorite Toy, My Favorite Hobby, My Favorite Place, My Favorite Person, My Favorite Book, My Favorite Song, My Favorite Movie, and more!)
These End of Year activities include a variety of engaging printables to help transition your students into summer.
End of the Year Resources Included:
Portfolio covers (editable name/type/grade fields)
The Important Thing writing pages (extension for The Important Book)
Letter to Future Self writing pages (4 differentiated line options)
All About My Year (or grade level) Flip Book Memory Book (3 topper options)
Summer Goals writing/drawing activity
ABC Countdown to Summer
Countdown to Summer dry erase sign
Summer Reading Goals (anchor chart pieces, goal writing, Summer Reading Log)
Last Day of School posters (3 options--1 crayon w/editable grade level, 1 chalkboard personalized, 1 photo prop frame)
Graduation certificates (with editable name, teacher name and date fields)
Report this resource to TPT