Launching Writers Workshop Kindergarten and First Grade Distance Learning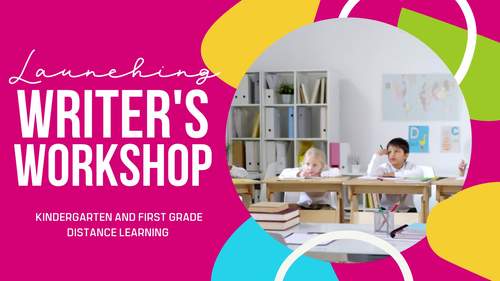 ;
What educators are saying
I was struggling with teaching writing virtually, but this resource provided me with engaging lessons to use with my students virtually!
Thank you for this and making it easy to add to Seesaw. It's so helpful for my at home learners! Thank you!
Also included in
Writers' Workshop is a great way to develop students love of writing. Through coaching, students learn to write for a variety of audiences and purposes. They also become more independent thinkers and problem-solvers.Who is This Bundle For? Teachers who need ideas to teach writers' workshop in the cl

Price $70.00

Original Price $98.45

Save $28.45
Description
If you struggle with teaching writing workshop with your students, this unit will help get you and your students started.
Click here and SAVE by buying ALL of my Writing Workshop Resources in 1 Bundle!
"This saved my bacon! I had always taught intermediate grades and was clueless about teaching primary writing when I changed grade levels. The first year I learned right along with kids, I knew to do it again the second year. I love this product. Thank You." - Diana H.
Many teachers tell me they don't have the resources, support, time, or curriculum they need to teach writing workshop effectively.
They also tell me it is hard to get their young students organized and writing independently.
If you can relate to any of this, you are not alone, and this writing workshop unit is for you!
Whether you teach your students virtually, face-to-face, or a hybrid of both, I developed this unit to give you the confidence and support you need to launch your writing workshop. 
Step-by-step instructions in getting organized for launching writers workshop
Forms for conferencing, assessments, and sharing
Outline of Workshop Time - Includes resources for conferencing and share time.
Detailed lessons to help you get started with launching writer's workshop.
Several options for writing paper and graphic organizers.
Resources for student offices that include ABC chart
Word chart
"I Can" charts
Color word chart
Pencil rubrics
Manuscript chart
Links to already created Seesaw lessons, click and add to your Seesaw library
Made FOR YOU video lessons for every workshop lesson in Seesaw
Image files of all graphic organizers to add to Seesaw or other web applications, as desired.
Teaching students to draw pictures to tell stories
Adding labels to pictures
Writing a sentence that goes with their picture
Adding more details to pictures
Adding more information to sentences
Classroom management lessons
Modeling for students how to use ABC chart
8 Troubleshooting lessons
Using Pencil Rubric to reflect on writing
Using word chart
Publishing their paper using technology
Why You Can No Longer Afford To Ignore Writing Instruction In Your Classroom
Teaching writing is the best way to help your students learn to read
Writing is a great way to teach students to think critically and reflect on their learning
Add technology to the mix and writing will be your students favorite part of the day
Aligned to:
Common Core State Standards
Grab it today, and don't forget that leaving feedback earns you points toward FREE TPT purchases. I love to hear your feedback!
Also, follow me and be notified when new products are uploaded. New products are always 50% off for the first 24 hours posted. It pays to follow me!
As always, please contact me with any questions!
Thank you so much,
Jen
Report this resource to TPT