Learning About the USA Bundle of Activities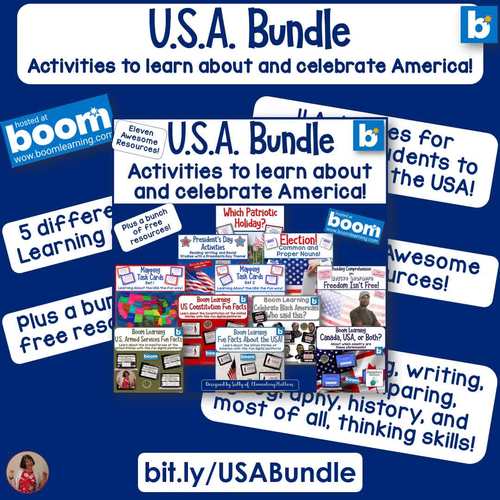 ;
Products in this Bundle (22)
showing 1-5 of 22 products
Description
Learning about our country can be fun, and can practice other important skills as well. These activities are great for any patriotic holiday: Constitution Day, Election Day, Veterans Day, Presidents Day, Memorial Day, Flag Day, or Independence Day. These activities also work well any time of year you want the children to learn more about their country.
People need novelty to keep life interesting. They can be taught about their country with lectures and "busy work," or they can play games and do fun activities to learn about their country as well as practice other important skills like reading, math, and writing! Research proves the latter is more conducive to learning!
I've put together this bundle full of activities to learn about the USA, and help primary students celebrate their country while practicing important skills. It contains mapping activities, a voting and graphing activity, informational reading about holidays and armed services, a game to practice common and proper nouns with an election theme, several Presidents Day activities, two types of writing paper, and patriotic brain breaks!
BOOM Cards are easy for the teacher and fun for the children! These can be played on computers or tablets, give immediate feedback to the children, and detailed data for the teacher.
More information about BOOM cards:
"With your Teachers Pay Teachers purchase, users new to Boom Learning get a three-month free trial of student progress reporting for up to 150 students. Your trial includes the ability to make up to 5 free DIY decks. You may upgrade or cancel at any time. Boom Cards play on modern browsers (released in the last three years) on interactive whiteboards, computers, or tablets. Boom Cards apps are also available. Not sure if your browser is modern enough? Try a free Boom Cards deck first. When you redeem your purchase, Boom Learning opens an account for you if you do not already have one. If you do not subscribe at the end of your trial, you will be able to continue using Boom Cards with the Fast Play feature. Fast Play does not track individual progress. If you do not subscribe we will delete your student records 3 months after the expiration of the trial to protect student privacy."
Be sure to download the preview file for a better understanding of what is contained in this resource. Thanks!
*************************************************************************************************************
Be sure to click on the green ★ to follow me for updates and announcements of new resources!
*************************************************************************************************************
Designed by Sally of Elementary Matters. elementarymatters@gmail.com
♦ If you like what you see here, see my social media HERE.
Report this resource to TPT
Standards
to see state-specific standards (only available in the US).
Organize, represent, and interpret data with up to three categories; ask and answer questions about the total number of data points, how many in each category, and how many more or less are in one category than in another.
Generate measurement data by measuring lengths of several objects to the nearest whole unit, or by making repeated measurements of the same object. Show the measurements by making a line plot, where the horizontal scale is marked off in whole-number units.
Draw a picture graph and a bar graph (with single-unit scale) to represent a data set with up to four categories. Solve simple put-together, take-apart, and compare problems using information presented in a bar graph.
Ask and answer questions about key details in a text.
Identify the main topic and retell key details of a text.