Learning To Tell Time - Quarter To/Quarter Past Expansion Pack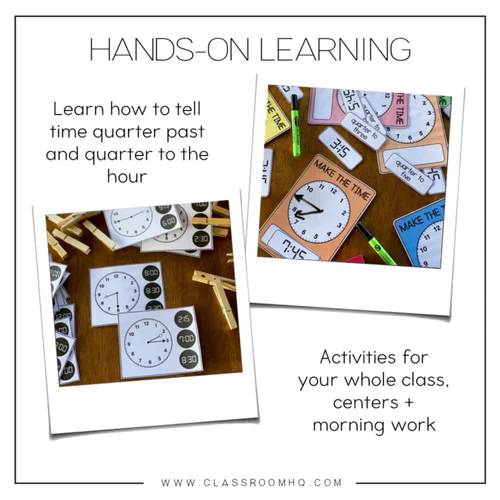 ;
What educators are saying
My students found the visuals in this resource to be really helpful. It's unlike anything else I've found. I recommend!
Great for use during math time to extend some of my more capable Year 1's who have grasp the more basic concepts of hours and half hours. Very engaging.
Description
With a focus on telling quarter past and quarter to time, this learning to tell time pack is the perfect addition to your time teaching unit.
Time can be a difficult concept for many children to master but this easy to prep, hands-on pack has everything you need to deepen your students understanding of time. With over 50 pages, this Telling Time unit includes printables suitable for whole class instruction, Mental Maths routines, worksheets, interactive workbook pages, clip cards, games, puzzles, and other resources for individual and small group math center activities plus pre and post-assessments.
This pack concentrates on quarter to and quarter past time while also consolidating children's time telling to the hour and half hour. It pairs well with our other Time Telling Pack - Hour + Half Hour Time.
Designed for use from first grade and above, all of the activities come with instructions for teaching and student-friendly directions. The range of different tasks and resources make it easy to differentiate to suit your year level by selecting those that best match your curriculum and student's knowledge of time.
Here's what's included -
Quarter past the hour and quarter to the hour cards with both analogue and digital times for classroom display
Clock face 3-part cards with analogue, digital and written time for all quarter past + quarter to times (posters or puzzles) - 2 per A4 page
Make The Time mat - easy prep mat for practicing making the different representations of time - A4 page
Telling Time Poster set - how to use the hour hand to tell time - A4 page
Make the Time Mats + time cards
Clock face + time cards (quarter past + quarter to sets for matching) - 8 per A4 page
Make the Time worksheets - A4 page
Match the Time worksheets (hour time plus hour and half hour, quarter past + quarter to) - A4 page
Draw the clocks worksheet (using hour hand + using minute hand) - A4 page
What's The Time activity (quarter past + quarter to time) - A4 page
Quarter To + Quarter Past Clip Cards - 4 per A4 page
Teaching suggestions are included for each resource.
Assessment tasks also included.
File type –
Ready to print PDF

IMPORTANT THINGS TO KNOW BEFORE YOU PURCHASE THIS RESOURCE…
All of our resources are downloadable digital files that you will be able to access immediately after purchase.
★ Please view the available PREVIEWS to see more of what's included ★
I also encourage you to ask questions before purchasing if you are uncertain of anything.
What programs do I need to open and use this product?
I recommend using Adobe Acrobat Reader to open any PDF files. Adobe Acrobat Reader is a free program and can be downloaded here.
Ensuring your software is up to date can help to avoid any compatibility issues.
YOU MIGHT ALSO LIKE
Learning To Tell Time - Connect 4 Game

Telling Time I Have, Who Has Loop Card Game - Hour + Half Hour Time
Telling Time - Playdough Mats and Clockface Cards

FOLLOW ME for more classroom inspiration!!
>> INSTAGRAM
>> PINTEREST
>> FACEBOOK
Or check out our blog >> classroomHQ.com

Copyright © classroomHQ
All rights reserved by author
Permission to copy for single classroom use only
Electronic distribution limited to single classroom use only
math center | telling time | telling time games | time clip cards | quarter past time | quarter to time | telling time to the quarter hour | telling time to the quarter hour worksheets | time telling posters | clocks | clock worksheets | classroom HQ | you clever monkey
Report this resource to TPT
Standards
to see state-specific standards (only available in the US).
Tell and write time in hours and half-hours using analog and digital clocks.
Tell and write time from analog and digital clocks to the nearest five minutes, using a.m. and p.m.