Leprechaun Activities | Themed Day | St. Patrick's Day Activities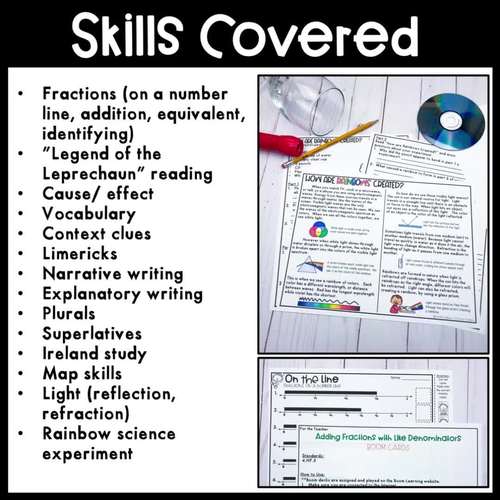 ;
What educators are saying
This was such a fun resource for St. Patty's Day! My students loved the activities and were fully engaged. I just wish I had more time to use all of the activities!
This resource was helpful to support in-class and online activities for St. Patrick's Day. Students enjoyed completing the worksheets, which were engaging and interesting for them.
Also included in
Celebrate Saint Patrick's Day in the classroom with fun, meaningful activities! This engaging money-saving bundle includes activities for an entire leprechaun theme day as well as a study of the country Ireland. You will have more than enough activities to keep your students engaged and learning th

Price $7.52

Original Price $11.75

Save $4.23

This bundle of March resources will give you so many activities for all subjects to use throughout the month! All activities require very little to no-prep, so they are easy to just print and use immediately in the classroom. Cover important holidays and provide spring-themed pages without having

Price $30.08

Original Price $47.00

Save $16.92

If you are looking for fun, engaging, standards-based learning activities created around a theme, then this theme day bundle is for you! With 9 different theme days included, you will have everything you need to sprinkle some themed fun throughout your school year. Your students will LOVE all the ha

Price $30.08

Original Price $47.00

Save $16.92
Description
Leprechaun activities for an of engaging lessons are all planned out for you with this fun product! Perfect for Saint Patrick's Day, this product includes leprechaun activities for reading, writing, language, social studies, science, and math instruction. Your students will LOVE all the hands-on activities. You will love having rigorous and meaningful standards-based activities AND an entire day of instruction planned out for you!
This product is perfect to use around the Saint Patrick's Day, throughout March, or anytime you want to add some leprechaun fun into your classroom. Although pages were designed to be completed in one day, activities could be spread out over days or a week. There are enough activities to keep your students busy beyond one day of instruction!
***************************************************************************************************************
PRODUCT INCLUDES THE FOLLOWING:
About this product directions/ suggestions for use
Teacher directions for each subject. Includes standards, materials, and how to
Leprechaun Day invitations for your students
"The Legend of the Leprechaun"-informational text, comprehension questions, text-based questions, cause/ effect graphic organizer, context clues graphic organizer
4 limericks to read and answer questions
"Leprechauns: A Short Story"-fictional text, vocabulary word mat activity using context clues
comparative and superlative adjectives worksheet
plurals coloring worksheet
"Catching a Leprechaun"-explanatory writing prompt, graphic organizer, and writing page
"If I Found a Pot of Gold" -narrative writing prompt and writing page
"Leprechauns: are, can, have" brainstorming page
Fraction Match Game: Includes two options for various skill levels (identifying fractions and equivalent fractions)
Comparing Fractions board game
Fractions on a number line-cut and paste worksheet
Adding Fractions BOOM deck
Light Experiment: student experiment recording pages included
"How are Rainbows Created?" informational text
Ireland country text
"Where in the World is Ireland?"-map skills worksheet
"Ireland on the Map"-map skills worksheet
***************************************************************************************************************
Just want the St. Patrick's Day fraction math activities? Purchase them here.
***************************************************************************************************************
Don't forget that leaving feedback earns you points towards FREE TPT purchases. I love feedback!
Click here to follow me and be notified when new products are uploaded. ★Products are 50% off during the first 48 hours!!★
Find me online at The Rocket Resource for tips, resources, and freebies!
OTHER PRODUCTS YOU MAY BE INTERESTED IN:
Report this resource to TPT
Standards
to see state-specific standards (only available in the US).
Understand a fraction 1/𝘣 as the quantity formed by 1 part when a whole is partitioned into 𝘣 equal parts; understand a fraction 𝘢/𝑏 as the quantity formed by 𝘢 parts of size 1/𝘣.
Understand a fraction as a number on the number line; represent fractions on a number line diagram.
Explain equivalence of fractions in special cases, and compare fractions by reasoning about their size.
Explain why a fraction 𝘢/𝘣 is equivalent to a fraction (𝘯 × 𝘢)/(𝘯 × 𝘣) by using visual fraction models, with attention to how the number and size of the parts differ even though the two fractions themselves are the same size. Use this principle to recognize and generate equivalent fractions.
Compare two fractions with different numerators and different denominators, e.g., by creating common denominators or numerators, or by comparing to a benchmark fraction such as 1/2. Recognize that comparisons are valid only when the two fractions refer to the same whole. Record the results of comparisons with symbols >, =, or <, and justify the conclusions, e.g., by using a visual fraction model.