Les nombres 0 à 100 | French Numbers | Boom Cards | Digital Learning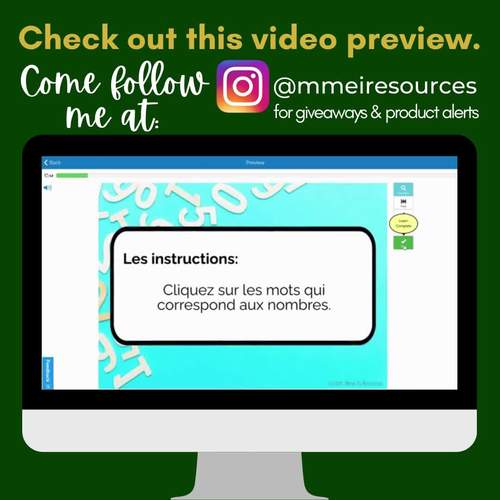 ;
Description
Boom Cards are an excellent resource to make any lesson interactive, engaging and fun! Students receive feedback on their responses instantly, making formative assessment so much simpler. 
This bundle of Boom Cards will help your students practice their numbers in French. There are 10 decks included in this resource. An additional free deck has been included for counting by 10s in French. Students look at the number on the screen and select the words that match the number.
This product includes: 
10 Boom Card Decks

0 à 10
10 à 20
20 à 30
30 à 40
40 à 50
50 à 60
60 à 70
70 à 80
80 à 90
90 à 100
1 FREE Boom Card Deck - Les dizaines
Feedback:
Please feel free to click and send me an email with any feedback you may have!
Alternatively, I would greatly appreciate a review of the product on TpT so I can improve it.
And remember, leaving feedback earns you TPT Credits which may be applied to your future purchases.
Let's connect on Instagram. Click here.
Looking for French FREEBIES? 
Join my V.I.P. list to get exclusive FREEBIES and GIVEAWAY information sent straight to your email. Click . 
Thanks and enjoy!
♡ Mme. I
Report this resource to TPT