Let's Infer and Respond Cards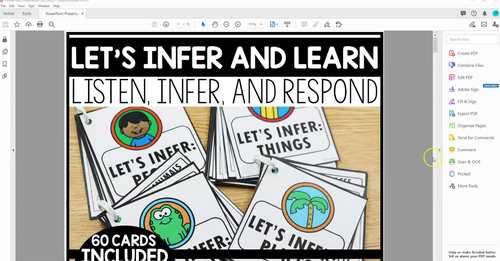 ;
What educators are saying
This saved me so much time! I loved having this ready-made instead of writing so many prompts myself.
I use these cards when we are lining up. The kids love them and it helps get them quieted down in line!
Also included in
* * SAVE BIG WITH THE BUNDLE! THIS BUNDLE CONTAINS $120 IN MATERIAL. GRAB IT ON SALE NOW! * * ** * * Questions? Click HERE to Instant Message me! * * * What packets are included? 1. Pip the Pup Books Galore (A set of 50 Pip the Pup books ranging from the alphabet, math, phonics, social skills, and

Price $50.00

Original Price $100.00

Save $50.00
Description
* * THIS PACKET IS PART OF VIP BUNDLE 4TH EDITION! SAVE BIG WITH THE VIP BUNDLE 4TH EDITION HERE * *

What is the Let's Infer and Respond Cards packet?
The Let's Infer packet gives you 60 inferencing cards. The packet allows students the opportunity to listen to you read the card, make an inference, and respond with their answer. The packet includes inferencing for people, places, things, and animals. Please note that students might state a correct answer that isn't listed on the card. Laminate the cards for best repeated use. Binder clip the cards or place them onto a ring.

What is included in the Let's Infer and Respond Cards packet?
* 60 infer and respond cards

What skills are included in the Let's Infer and Respond Cards packet?

people
places
things
animals

Questions?
Please email me at littlemindsatworkllc@gmail.com
Would you like to receive notifications for my newly released packets and upcoming sale? Be sure to FOLLOW ME here on TPT!
**Join my private Facebook Group to join fellow Pre-K, Kindergarten, First Grade and Second Grade teachers that use my curriculum! Collaborate, chat and share ideas with like-minded teachers! Join the private Facebook group H E R E!
Visit my blog Little Minds at Work
Follow me on Facebook
Report this resource to TPT
Standards
to see state-specific standards (only available in the US).
Describe familiar people, places, things, and events and, with prompting and support, provide additional detail.