Letter Identification and Sounds Activities | YEAR LONG BUNDLE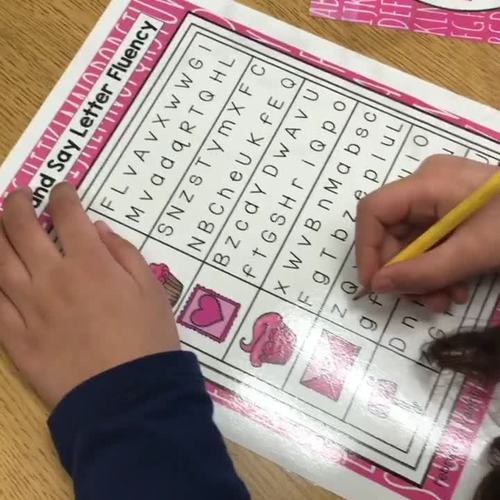 ;
Products in this Bundle (11)
showing 1-5 of 11 products
Also included in
Letter Identification + Letter Sounds + Fine Motor skills + SO MUCH MORE is what you get in this Year Long Kindergarten Literacy Centers Bundle. This amazing resource includes 50 resources for an entire year of meaningful hands-on learning. The monthly literacy centers and activities are broken into

Price $97.65

Original Price $139.50

Save $41.85
Description
When teaching Kindergarten and First Graders, there is no doubt that you need many activities to practice and review letter names and sounds. You may be looking for ways more engaging than letter identification and beginning sounds worksheets. This hands on spinner activity is sure to be a hit with your students, as well as perfect practice and review for your DIBELS assessment, Aimsweb, or Easy CBM, especially for your student going through the RTI process.
---------------------------------------------------------------------------------------------------------------------
WHAT'S INCLUDED IN YOUR DOWNLOAD:
►11 Different Activities- 1 for each month of the year with a combination month for June and July.
►Each month contains 2 color game boards and 2 corresponding spinners.
►Each month contains 2 B&W game boards and 2 corresponding spinners for flexibly printing options.

TO PREPARE AND PLAY:
►To prepare, simply print on card stock (if you wish) and laminate for durability.
►Simply add a spinner or a paperclip/pencil combination to the actual spinner.
►Student has a board and a spinner and gives the spinner a spin.
►He/she finds the corresponding picture on the game board and quickly/fluently names the letter names or the beginning sounds, based on what skill he/she is working.
►Repeat as time permits.
MORE ABOUT EACH INDIVIDUAL MONTH:
August- Lemonade Stand/Summer Vacation
September- Back to School
October- Halloween
November- Pumpkin Pie, Scarecrows
December- Winter Holidays
January- Snowy Day
February- Valentine's Day
March- St. Patty's Day
April- Earth Day/Spring
May- Mother's Day
June/July- Summer Beach and Swimming Fun.

---------------------------------------------------------------------------------------------------------

For more great products from my store, be sure to peek at the following prior to checking out today:
⭐ Alphabet Posters | Alphabet Poems | Alphabet Formation Writing Practice
⭐ Beginning Letter Sounds | Five In A Row
⭐ Beginning Letter Sounds | Letter Sounds| Scratch Off Tickets
⭐ Beginning Sounds Worksheets | Sound Spinners
⭐ Phonics Flash Cards | Recipe for Reading Sequence | Orton Gillingham SET 1
⭐ Pop It Activities | Letters and Letter Sounds
⭐ Beginning Sounds & Letter Sounds for Kindergarten & 1st Grade | Boom Card Bundle
Are you following my store? If you do so, you will be kept up to date on all of my latest products as they are posted to my store. Typically, these are discounted upon posting which will save you money. Please click here to follow my store!
Do you know that you can earn TPT credits for leaving a rating and meaningful feedback for all TPT purchases you make? These accumulate and can be applied towards your future TPT purchases, in any store you shop. This will save you more money on future purchases. Thanks so much for your interest in my products.
Report this resource to TPT
Standards
to see state-specific standards (only available in the US).
Recognize and name all upper- and lowercase letters of the alphabet.
Demonstrate basic knowledge of one-to-one letter-sound correspondences by producing the primary sound or many of the most frequent sounds for each consonant.
Demonstrate understanding of spoken words, syllables, and sounds (phonemes).