Letter Recognition Games Alphabet Spot the Match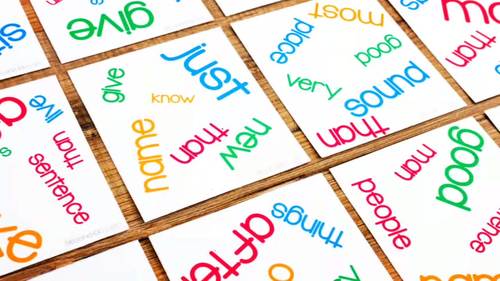 ;
What educators are saying
The kids whom I have used this with have loved it! Awesome idea to include some shapes with the letters!! Thanks for a great resource!!!
I have used this resource with my Newcomer SLIFE students. We are learning letter names and the middle schoolers love this game!
Description
Do your students need alphabet identification practice? Build recognition of upper and lowercase letters with this fun and addictive ABC game that is perfect for your Pre-K, Kindergarten, and ESL ELL learners.
Do you spy the pair of letters on any two cards? There is only ONE match! Not only is this game is fun to play over and over, it it a new game every time you shuffle the deck. Find the one and only match on two cards. Choose from lowercase game, uppercase game, or mixed. Watch the video preview for how to play (sight words game is shown but the method is the same).
CONTENTS
This resource includes three pair stare decks:
Lowercase deck (30 cards)
Uppercase deck (30 cards)
Mixed case deck (57 cards)
Use for alphabet reinforcement, for literacy centers, or even create mini decks for students to borrow and practice at home! These would also be useful for your ESL classroom. Instructions are included for solo play, pair play, and whole class play.
This version was created after a number of requests from teachers using Pair Stare games for sight words. I am happy to say I was finally able to meet the request and develop three decks to practice the alphabet.
What Teachers Are Saying
⭐⭐⭐⭐⭐ "My students partner with a peer who is in the functional skills class and they have been playing this game during centers time. Oh my! They love playing this together. It helps my functional skills student practice his letters, and it keeps my on grade level 4th graders engaged while they are working with him. I love this so much."
⭐⭐⭐⭐⭐ "My kindergartners loved this game. Great for reinforcing the names of the letters!"'
To see how this game works, preview a similar game for free: Sight Words Game FREEBIE: Pair Stare Fry First Hundred.
«»«»«»«»«»«»«»«»«»«»«»«»«»«»«»«»«»«»«»«»«»«»«»«»«»«»«»«»«»«»«»«»
Related Resources
Sight Words Game FREEBIE: Pair Stare Fry First Hundred
Pair Stare: Fry Second Hundred
Pair Stare: Fry Fourth Hundred
Sight Words Game: Pair Stare Fry second three hundred words BUNDLE
Sight Words Games: Pair Stare Fry MEGA BUNDLE first 600 words
Fractions Game: Pair Stare (Fraction Food)
Math Station BUNDLE: Pair Stare Addition and Subtraction, Shapes, Fractions
«»«»«»«»«»«»«»«»«»«»«»«»«»«»«»«»«»«»«»«»«»«»«»«»«»«»«»«»«»«»«»«»
Report this resource to TPT
Standards
to see state-specific standards (only available in the US).
Recognize and name all upper- and lowercase letters of the alphabet.