Letter Writing PowerPoint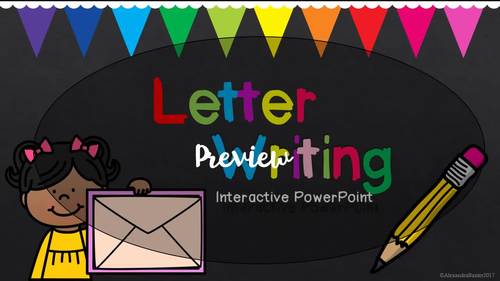 ;
Description
Are you teaching letter writing? Not sure how to introduce/revise the concept with your students? Need a warm up activity for your Literacy lessons? Then this is the perfect PowerPoint for you! It is a great introduction to letter writing. It includes slides on:
- What is Letter Writing?
- Types of Letter Writing
- Letter to Santa
- Title, Introduction, and Conclusion slides
- Sentence Starters
- Address
- Example Letters
- Paragraphs
It is really bright and engaging, with moving animations and eye catching clip art. It is engaging as the students can come up and touch the smart board and watch the animations.
HAVE YOU EVER FELT THIS WAY?
When I started my letter writing unit each year, I wanted to introduce the concept. I was looking for a way to tell students about what letter writing is and how it is structured. But…I needed a way to explictly teach the concept that was actually engaging. When I just talked AT students, they looked disinterested.
That's why I created this letter writing PowerPoint. I was thrilled to see that my students loved the colorful clip art that moved around. They enjoyed the examples and questions that encouraged the collaborative sharing of their ideas. I could see that every student was enjoying the lesson, participating in the discussions, and actually understanding the concept. It became a life saver.
Well if you know how this feels, this PowerPoint is for you.
Enjoy this resource! Don't forget to follow my store for more awesome products and rate this product for your TPT credits :)
Valentine's Day Letter Writing Craftivities
Letter to Santa Craftivity (Christmas Writing Craft)
Writing PowerPoint Bundle (Narrative, Persuasive, & Procedure)!
Teaching Duration
Lifelong tool
Report this resource to TPT
Standards
to see state-specific standards (only available in the US).
Write informative/explanatory texts in which they name a topic, supply some facts about the topic, and provide some sense of closure.
With guidance and support from adults, focus on a topic, respond to questions and suggestions from peers, and add details to strengthen writing as needed.
With guidance and support from adults, use a variety of digital tools to produce and publish writing, including in collaboration with peers.
With guidance and support from adults, recall information from experiences or gather information from provided sources to answer a question.
Write informative/explanatory texts in which they introduce a topic, use facts and definitions to develop points, and provide a concluding statement or section.